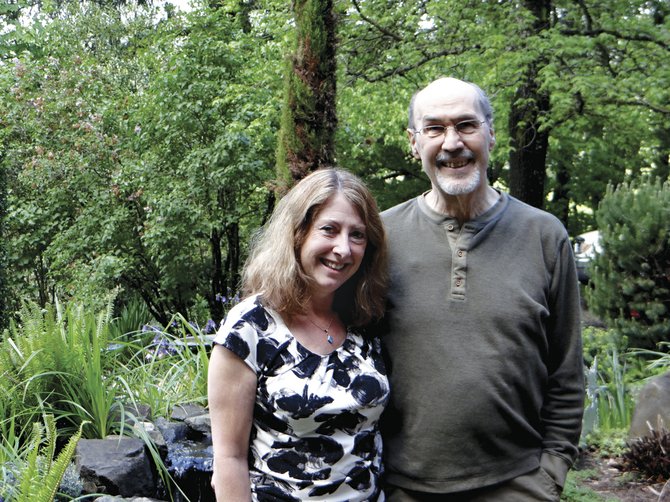 PEDEE — Four years ago, Sam Guida, diagnosed with a rare form of leukemia, was told he had four to 44 months to live.
It's now been more than 50 months, and he still battles the cancer every day, but he is enjoying life with his wife, Judy, as much as he can.
"You've got to live your life," Sam said. "You can't move into a bubble and try and stay safe. I could be crossing Pedee Creek Road and get run over by a log truck for that matter."
It hasn't always been that way. When he was first diagnosed, he was more careful, trying to avoid crowds.
"For the first couple of years, we didn't go anywhere," Sam said. "I just stayed home and worried about everything."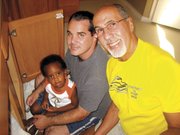 One big complication with his form of leukemia is pneumonia, he said. In fact, many people aren't diagnosed with the disease because they die from pneumonia first, Judy added.
"Pneumonia seems to be the way out," Sam, 77, said. "I have had pneumonia seven times in the last four years."
And the pneumonia bug is everywhere.
"I tried to stay away from crowds; I tried to stay away from people with colds," Sam said. He avoided traveling when germ-carrying kids were out of school or during the winter when flu season was in full force.
But once he realized he could feel fine and healthy one night, and wake up the next morning unable to move with a high-grade fever — without real explanation — he decided to get back out and start living again.
"My outlook is, don't stop living, regardless of your situation," Sam said. "There's too much to do besides just isolating yourself."
Besides, they have the same drugs in Europe as they do in America, he added.
Pneumonia is actually how Sam and Judy discovered Sam had leukemia. He was out for a jog around the trail he built on their 17 acres in Pedee. As he reached the top of the hill, he realized he was more tired than usual.
"I thought I must not be exercising hard enough," he said. "Turns out, I had double pneumonia. They didn't really figure out I had leukemia until the second time I had double pneumonia."
The second time, while at Good Samaritan Hospital in Corvallis, an oncologist sent him via air flight to Oregon Health & Science University.
"'He won't make it until morning,'" Sam recalled the oncologist saying. "By that time my white blood cell count was up to 204,000, something like that. My lungs were filling up with liquid."
He said he'd always wanted to fly in a helicopter, but unfortunately doesn't remember any of his flight from Corvallis to Portland.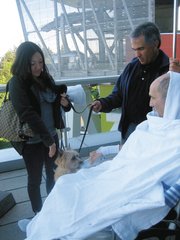 Judy remembers seeing two doctors approach her in the hallway that night at OHSU, and said it's just like in the movies when doctors come to deliver bad news.
"They were the sweetest guys," she said. "They said, 'We're giving him a 5 percent chance of making it.'"
But one of the woman doctors came up with a plan that would save Sam's life. They removed all his blood and ran it through a centrifuge-type device, pulling out all the bad white blood cells.
White blood cells were clogging Sam's lungs, kidneys and brain. They had to run his blood through the machine twice and administer chemotherapy to try and get it under control.
It worked.
Now, Sam is in chemotherapy five days a week every month, and has been for more than 50 months.
His cancer is terminal, and won't go into remission or be cured. Eventually, the chemo treatments won't be as effective. But Judy and Sam have come to terms with it.
When they first got the diagnosis, Judy said they came home and cried, and then they figured they could either keep feeling bad about it, or not.
"We call this our new reality," she said. "When the doctor said he might have leukemia, that was hard to hear, but it was such a gift because it gave me a few days to process it. All I remember thinking the next day was whether or not he had leukemia. This is going to be the last day of life as we know it. Tomorrow is going to start our new normal."
Through it all, Judy and Sam have begun traveling again.
Judy has learned to do everything needed to take care of their 17 acres and home in Pedee. Sam had his funeral paid for in the first four months after his diagnosis.
"Death isn't anything new to us," Sam said. "I have never, even as far back as I can remember as a little kid, thought that I was going to live forever."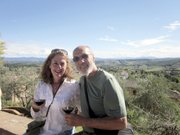 When it comes to living, quality trumps quantity, Judy said, even though it has made her and Sam make some hard decisions, like not putting him on a ventilator anymore.
Sam said he has always thought of life as a little plant.
"It's born and it grows for a period of time; sometimes a drought puts it down early, whatever the case may be, but eventually, everybody dies," Sam said. "You can't escape death."
Until then, Judy and Sam are making the best of their time together, including the little things like savoring dessert and laughing a lot, even about the time Sam's medication made him think their home had been invaded by aliens.
Lucky for him, his niece had bought him a space gun.
"It must have worked because it got rid of them," Sam said with a smile.