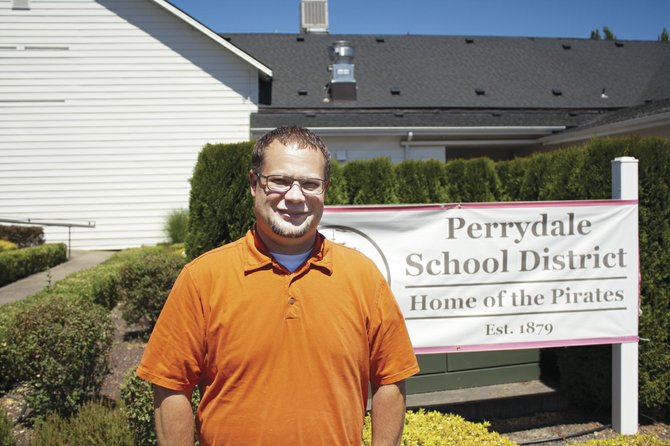 PERRYDALE — Eric Milburn, Perrydale School District's new superintendent, originally was going to be a physical therapist.
He studied the subject for a year when something happened to change his mind.
On a mission trip for his church after his freshman year in college, Milburn was asked to help out at a YMCA in Kansas City, Mo. He was assigned to help tutor a group of students on their homework for an hour each day.
The first day, Milburn walked into a room with 10 students. Most showed no interest in studying.
"I noticed one particular student who was really struggling," Milburn, 41, recalled. "I could tell he wanted to learn and so I sat down and started to tutor him on his math. Soon, I had all 10 of those kids gathered around me trying to get some help with their homework."
The YMCA asked him back. Soon, the class expanded to include 40 students and allotted three hours instead of just one.
Milburn found a new passion.
"I just got a taste of it and loved working with the kids and helping them in any way that I could to be successful," he said.
Returning to school at Boise State University after the mission trip, he took one more semester in physical therapy before changing his major to education, eventually becoming a high school science teacher.
In 15 years as a teacher and school administrator, he's never regretted the switch.
"There's always new challenges and new things to deal with in education, but it all comes down to supporting the students," he said. "Working with the students is what makes it enjoyable."
Now he can continue that work in Perrydale — and Milburn couldn't be more excited about the opportunity, given the school's location and reputation for academic success.
"For one thing, I've been drawn to the Willamette Valley. I love it here. I've vacationed out this way several times. That sparked my interest first," Milburn said of his thoughts when the position opened due to former superintendent Robin Stoutt's retirement.
The draw only became stronger when he looked into the school's size, academic performance and culture.
"As I got more information about the school, I liked how it seemed to be a really close-knit community that is really supportive of the students," he said. "That's the type of community I wanted to be a part of."
Milburn spent the last three years in a much smaller district, Annex in Malheur County north of Ontario. The school only had 79 students, and was somewhat of an administrative trial by fire.
"I was the only administrator, so I held the principal position, the superintendent, federal programs director, transportation director, food service director," he said. "It really gave me an appreciation of all the different roles that are in the school."
Milburn said that experience will only help him in his new post. He said he'll spend his first year in Perrydale getting to know the district and striving to continue its success.
"I think after that first year, it's re-evaluating what we have and the changes that need to be made," he said.
Milburn said he would like to focus on creating strong "professional learning teams" (PLTs) among school staff that would allow teachers to voice their ideas and see them put into action.
Increasing use of technology in the classroom is another of Milburn goals. He said he anticipates more movement away from textbook-based curriculum and he wants to put the district in a position to take advantage of that.
Once a football, wrestling and track coach, and "football junkie," Milburn is looking forward to supporting the Pirates once fall sports begin. He said with a full plate as superintendent, he will miss coaching.
"But I also like to sit in the stands and cheer them on as well," Milburn said.
Getting to Know Eric ...
Who: Eric Milburn, Perrydale School District's new superintendent.
Age: 41.
Family: Wife, Angie; and sons, D'Kota and Dylan. Dylan will attend Perrydale starting in the fall.
Hobbies: Woodworking, fishing, camping, hunting — anything outdoors really — or anything to do with sports.
Favorite sports teams: Boise State. He's "through and through a Bronco," but also a fan of the Pittsburgh Steelers and Kansas City Royals. A big fan of former Royals third baseman George Brett, a photo of Milburn at Brett's last game appeared in the biography "George Brett: The last of a breed."
Favorite form of entertainment: Slapstick comedy.