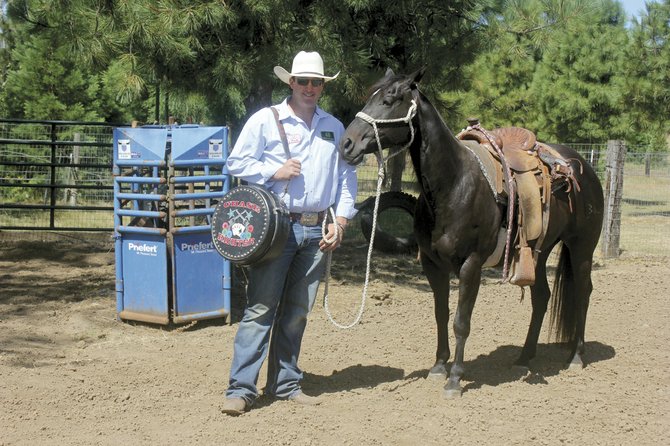 GRAND RONDE — Former Perrydale High graduate Chase Richter was born to ride.
Richter was riding horses before he could crawl, taking his first ride at 3 days old.
A lifelong love affair with horses and rodeos had begun.
"I was always the kid at the barrel races who walked around with a rope in my hand," Richter said.
It's little surprise then that, despite playing baseball growing up, it was the allure of rodeo that defined Richter's path.
"In seventh grade, I pi-cked up a rope and started roping," Richter said. "I made the state finals my freshman year (of high school). I flew down to Texas and have been real blessed with some family down there. I flew down every break that we had at Perrydale and trained with everyone down there."
No matter where he was training, Richter was doing everything in his power to get better.
"There's been a lot of blood, sweat and tears put into roping calves," Richter said. "We had 20 head of practice calves here (in Perrydale), which I rode every night."
Richter, who will participate in team roping and calf roping at the Spirit Mountain Stampede Rodeo at the Spirit Mountain Rodeo Grounds in Grand Ronde on Sunday, has seen his career advance, competing as part of the Northwest Professional Rodeo Association and at rodeos throughout Texas.
But the path hasn't always been easy.
Winning attitude
At Richter's Texas home, there's a motto used whenever they train: Winner's hang with winners.
"It doesn't mean you have to win every time," Richter said. "It means you have to have a winning attitude to hang around us because it's a lot easier for one sour attitude to ruin a team than it is for five people to bring up that person."
But in the world of rodeo, keeping a winning attitude isn't so simple.
Headed into the Fourth of July week, a time that Richter says rodeo competitors call "Christmas in July," Richter had a disappointing finish, failing to place in the top eight and finishing without winning any prize money at the St. Paul Rodeo.
Despite the disappointment, Richter didn't hang his head.
In a sport where the clock, a little luck and the stock make the difference between first and finishing out of the money, managing the highs and lows is critical, or you risk having one bad performance ruin another.
"It's the roller coaster of rodeo," Richter said. "The Fourth of July run was one of the worst weeks I've had in a long time. But there are a lot of ups and downs. You have to have great family and friends around you to deal with that.
"We have a saying that we don't let the last run carry into this one, and we don't let this one carry into the next one."
That's a mentality that has taken Richter years to fully grasp.
"There have been times I've thrown my hands up and gone hunting or something," Richter said. "You can think I'm hanging everything up, but after being gone for a day or two, I start to think that I haven't touched a calf in a while and I've got to do something."
The triumphs and disappointments of competition may be difficult to overcome, but the rodeo life also provides a number of other challenges, from traveling overnight from one rodeo to the next, to fixing issues on the fly.

But for Richter, rodeo is a sport unlike any other. And that's more than enough to keep him coming back.
"In every other sport, if you're playing for one team you're not going to help me beat you," Richter said. "In rodeo, everyone helps each other."
"We have our families and our rodeo families. Everyone just wants to be friends and, while we want to win, if I help you beat me that's one thing. If I beat me, that's when I get frustrated."
That sense of family is what keeps him coming back, Richter said.
Living the rodeo life has its share of challenges. But Richter knows he's a long ways away from being ready to walk away from the life he loves.
And in the end, that is what matters most to him.
"This is all I've ever known," Richter said. "Whether you're in rodeos, baseball or whatever you like, you just have to do what makes you happy. That's the biggest thing I've learned. And I love rodeos."