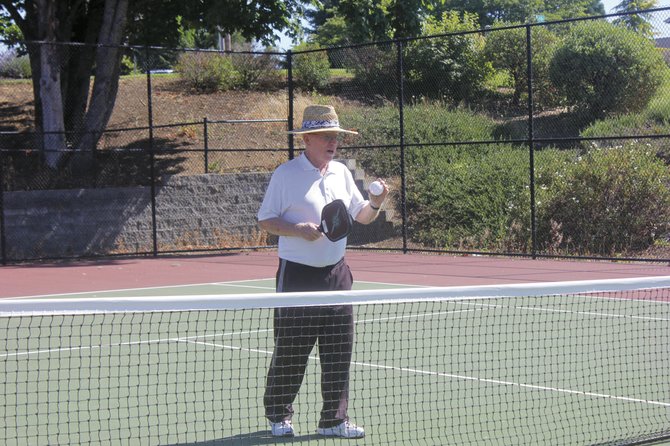 DALLAS — Richard Winn has been hooked on pickleball since 2007. Now, he's hoping to spread the word about the sport.
Winn teamed up with the city of Dallas in 2013 to first offer pickleball in the community. This summer, he's hoping to draw new players by offering free lessons from 10 a.m. to noon at the Roger Jordan Community Park tennis courts. Open play is offered on Wednesdays and Fridays at the same time through Sept. 12.
"It's a fast-growing sport for older folks," Winn said. "You don't have to run all of the distance of a tennis court and you don't carry around a heavy racket. That's why I think it's grown."
Winn has seen firsthand the growth in popularity of the sport after spending winters in Sunrise, Ariz., where he was first introduced to the game. When he started, he joined a club of around 200 players; that number is up has increased to more than 500.
Now, he's offering new players an easy way to see if this sport is right for them.
"We have paddles available for people to use," Winn said. "I tell new players don't rush out and buy something. This is a way for them to try it out for a while, and if they get into it, then they can think about getting some equipment. It's an easy game to pick up."
Pickleball is played with two doubles teams. Matches are played on tennis courts, but with smaller dimensions. While pickleball may not be mainstream, it's accessible and easy to learn, Winn said.
"If you played tennis, handball, pingpong or anything like that, you can pick this game up," Winn said. "It's a hand-to-eye coordination sport."
Winn said pickleball in Dallas is attracting players of all ages, from children to senior citizens looking to stay active. That comes as little surprise to Winn.
"It's an excellent cardiovascular activity," Winn said. "It's pretty easy on the body. I much rather be doing this than running on a treadmill for an hour."
Winn is hoping to see the sport take off in the community. And after seeing more and more people learn the game in other places, Winn is looking to help make pickleball a summer staple for players of all ages in Polk County.

"I think people will have a lot of fun with it," Winn said. "It's a fun way to interact with others while getting exercise, and the game itself is very easy to learn and fun to play."