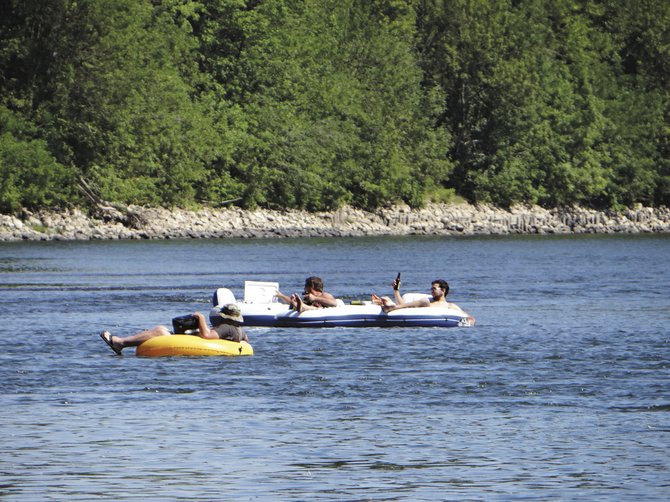 POLK COUNTY — It can happen in an instant. One minute you're wading along the Willamette River enjoying a hot summer day, and the next you're caught in a current you can't get out of.
It doesn't matter if you're wading, swimming, floating or boating, if you don't know the river or your abilities, this kind of situation can get ugly — and fast.
"Things may look fairly calm, and then it's rushing water," said Dean Bender, Polk County Sheriff's Office Marine Program manager. "The water looks very inviting, but it's very dangerous if you don't know what you're doing or where it's at."
The sheriff's Marine Patrol, entirely funded by the Oregon Marine Board, is a seasonal patrol, operating from Memorial Day through Labor Day.
"We encourage people to enjoy the water, but they've got to have life jackets and know the stretch of the river," Bender said. "Things look calm in one area, but half a mile down it could be treacherous."
With temperatures in the mid- to high-90s, enjoying Oregon's waterways is one way to cool off, but even when precautions are taken — such as swimming with a friend — tragedy can strike.
On July 8, Marion County Sheriff's Department had responded to two drownings in two days at Scott's Mill Park, a popular swimming hole on Butte Creek, according to a release from the department.
The man was swimming with a friend, began struggling against the current and drowned. He was unable to be resuscitated, the release stated.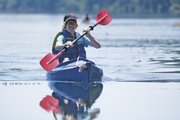 The current can be a problem in any river or creek. In Polk County, so far no drownings have been reported, but water rescues have.
Three young children were swimming in the Willamette River at Independence's Riverview Park and Amphitheater on the Fourth of July when they got farther and farther out and found themselves in trouble.
Independence Police Lt. Rick Igou said the children, aged 8, 10 and 12, were rescued by citizens.
"There was a lot of support from citizens who were watching this," Igou said. "There were probably a few hundred people watching this."
Katie Caccamise jumped off a cliff near the north end of the dock and pulled the first child out before going back for a man who was trying to help.
"It's just instinct," she said of the rescue. "If a kid is in trouble, no matter what, I will do what it takes to help … well, anyone for that matter."
Caccamise, 33, has three children of her own. All three know how to swim.
A few of the people who tried to rescue the children ended up needing rescuing themselves.
Bender said that is common.
"Bottom line is, if someone's drowning, and you go out to help them, they panic and try and pull you underwater," he said. "Chances are, you'll be a drowning victim, too."
Tina Paul, Dallas Aquatic Center supervisor, agreed.
"If you see someone in trouble, alert others nearby and always call out for help before you go in," she said.
Paul also recommends not trying to help unless you can stand up, and if you decide to try and save someone in the water, bring something with you to put in between yourself and the victim.
"If that panicked swimmer tries to grab you – which they always will – both of you will go down, even if you are an outstanding swimmer," Paul said.
Amanda Moore, 17, rescued the 12-year-old boy who found himself in too deep on the Fourth of July.
She coordinated with a friend to grab the kid from behind and pull him to a rope police had thrown out.
Whether or not to help someone who is drowning is up to the individual, Moore said.
"The current has been weird this year around Oregon," she said. "I've been in the river before many times. It pulled my socks off (on July 4). I had socks on, and they're gone. They were my good socks, too."
Moore, a lifeguard at Dallas Aquatic Center, said she would much rather swim in a pool with on-duty lifeguards.
"If you're just going out (in the river), it's not safe," Moore said. "I don't think I'd go out there without a life jacket very often. It's scary not being able to see the bottom and not knowing what's down there, with the current pulling. And not sanitary. Not sanitary at all."
Bender said for boaters, floaters and swimmers alike, not being able to see what's under the water is the biggest issue. Large logs and root balls float just beneath the surface and can cause problems for all kinds of people recreating in Oregon's rivers.
"Those logs are just inches under the surface," Bender said. "They (people) need to be looking downriver and know where they're going and what they're floating into."
In Independence, there are two life jacket loaner stations: one at Riverview Park and one at the new Independence Boat Ramp.
Bender said he has never pulled someone dead out of the river who was wearing a life jacket.
Drownings at the park are not unheard of, but also not common, Igou said.
"Very rarely people swim in the Willamette River," he said. "I just flashback to the other kids who drowned in that same spot," in 2008 when two brothers drowned in the area.
Stay Safe This Summer
Tips if you are planning to recreate in the water this summer …
• Learn to swim.
• Always tell someone where you are going and when you expect to return. In a boat, if you pull into one dock and head to another, call someone to give them updates.
• Carry a cellphone with you in a plastic or waterproof bag.
• Wear river shoes or something to protect your feet from things on the bottom of the river, including rocks and fish hooks.
• Explore the river with someone who knows the area. Don't use the river alone.
• Wear life jackets. It's much safer to use them even while swimming or wading in the water.
• Although average water temperatures in the Willamette River are in the 70s this week, be mindful that when the water gets deeper or faster, it can be colder. Cold water can put your body in shock and make it difficult for even a strong swimmer to escape the current.
Source: Dean Bender, Polk County Sheriff's Office Marine Program manager