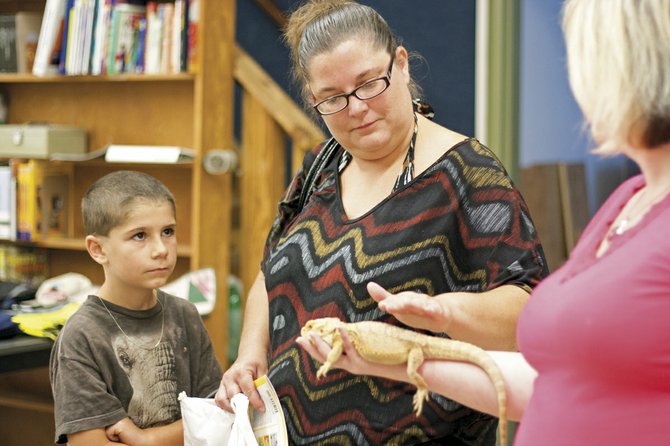 Knitting, crocheting
for youths planned
Polk County Extension Service is hosting a knitting and crochet help night Thursday from 4:30 to 6:30 p.m. at the Extension/4-H office, 289 E. Ellendale Ave., Suite 301, Dallas.
The class is for youths in sixth grade and older seeking help or wanting extra practice with a knitting or crochet project. You do not need be a 4-H member to attend.
Cost is $2 for 4-H members and $3 for nonmembers. Registration is recommended.
For more information: 503-623-8395.
Monmouth church
to host block party
Christ's Church Methodist and Presbyterian United will throw a neighborhood block party Thursday from 6 to 8 p.m. at the church's parking lot at Cherry and Clay streets in Monmouth.
Activities are primarily for children and include a fire truck, McGruff the Crime Dog and a bounce house.
Parents and children of all ages are welcome. Free hot dogs will be served to the first 200 guests, along with side dishes and drinks. A DJ from OnlytheBest will provide music.
For more information: Christ's Church, 503-838-1724.
Library book sale
set this weekend
Friends of the Dallas Public Library will hold its annual Summerfest Book Sale Friday and Saturday at the Dallas Civic Center, 945 SE Jefferson St.
Sale hours are 9 a.m. to 4 p.m. on Friday and 9 a.m. to 3 p.m. on Saturday. A preview sale for Friends of the Library members only will take place Thursday from 4 to 6 p.m. Memberships will be available at the sale. Cost is $10 annually for individuals and $15 for a family.
Most hardback and trade paperback books will sell for $1, while mass market paperbacks are 50 cents. The sale will also include music and movie titles, specially priced sets and collectible books. A special "bag sale" will be held during the last hour of the event Saturday at 2 p.m. During that time, a bag of books is just $3 or two bags for $5.
The group is still accepting donations of materials in good condition. Proceeds from the event benefit the library.
For more information: 503-623-2633.
YMCA's late night
pool party on tap
The Monmouth-Independence YMCA will host a Midnight Pool Party at the Independence pool, 4901 I St., from 9 p.m. to midnight on Saturday.
The event is family friendly, with music provided by a DJ. Food will be available on site.
Cost is $3 in advance and $5 at the door.
For more information: 503-838-4042; www.theyonline.org; find the Y on Facebook.
Motor club slates
Grand Ronde event
The Willamette Motor Club will hold its second annual Grand Prix of Grand Ronde, the club's No. 4 event for the 2014 championship season, Sunday at Spirit Mountain Casino.
Competition classes for cars ranging from true street driven unmodified cars to fully race prepared and custom built specials are planned.
Registration begins at 7:30 a.m. Competition begins at 9 a.m. and runs all day. The public is welcome to attend.
For more information: www.wmclub.org; on Facebook search for Willamette Motor Club.