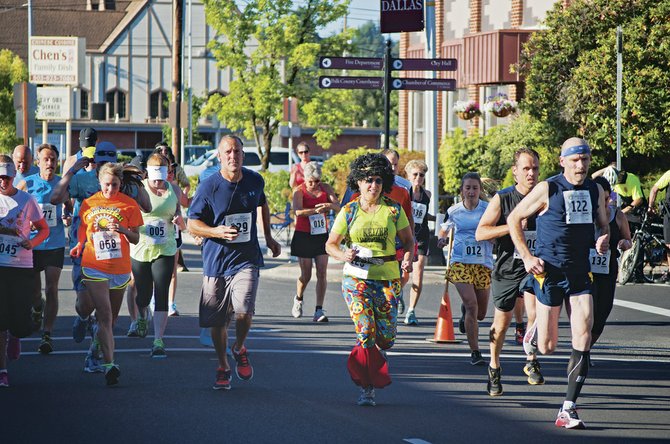 DALLAS — The Summerfest Fun Run is back and it's better than ever.
A year after taking over as race directors, Trenda Locke and Dyan Tallon are determined to make sure the race continues to evolve and grow.
"I think this event is unique because it has the history for those in the community of being a long-standing part of the Summerfest/Crazy Dayz festivities," Locke said. "Many community members have made sure this was something that continued throughout the years with their volunteer efforts."
The race, set for Saturday at 8 a.m., begins in front of the Dallas Radio Shack on Jefferson Street.
The event features 10-kilometer and 5K runs, a 5K walk and a 2/3-mile kids/adult fun run.
Awards will be given out to first- and second-place finishers in seven age divisions for the 10K and 5K events.
"We are trying to make these awards unique by having them locally made, including ceramic and glass medallions," Locke said.
In addition, a new timing system was purchased to ensure accurate timing for competitive runners.
The 5K run/walk will travel north on Jefferson to Walnut Street before turning east and following Walnut to the Dallas Aquatic Center, where participants will run a loop around the soccer field before returning to Walnut, heading south on Levens Street to Academy and back across Main Street.
The 10K race follows a similar course but directs runners eastward from the aquatic center on Barberry before looping back via Hawthorne and Academy to LaCreole, then heading west down Walnut through Dallas City Park.
The fun run/walk starts on the corner of Jefferson and Washington streets and follows the Summerfest parade route through downtown.
All races finish in front of the Polk County Courthouse on Main Street.
"We want to be encouraging and inclusive," Locke said. "We want to encourage activity and get people out doing something. For that, I think our routes are perfect."

Proceeds from the run will go toward supporting Dallas High athletics with the hope that this year's Fun Run continues to be a big draw for years to come.
"We hope that if this is the first time a participant does the race that they have fun and want to do it again," Locke said.