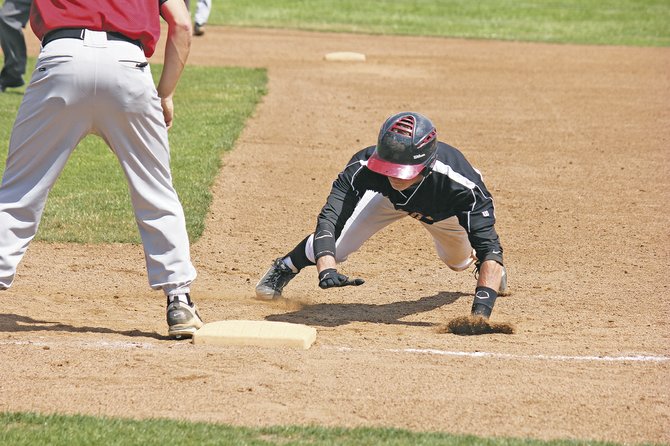 DALLAS — For the second year in a row, the Demarini Dirtbags are headed to state.
The Dirtbags won their Super Regional after earning a pair of victories over Alpenrose Dairy of Portland, 6-1 on Saturday and 9-2 on Sunday.
The title also clinched the team's spot in the American Legion AAA State Tournament, which begins Wednesday (today) at Grants Pass.
"(Our last two games have) been pretty incredible," Dirtbags coach Miles Kizer said. "Kade (Mechals) dominated on Saturday. Jarett (Peterson) dominated on Sunday. His pitch count was 69 or 72 or something like that through eight innings, which is unheard of and incredible. Our defense played great."
The Dirtbags racked up 13 hits against Alpenrose on Sunday, seeing strong performances at the plate from Andy Armstrong, George Mendazona and others.
"We hit the ball well late in the game," Kizer said. "Once we got going, everything was going real well. I was pleased with the energy and effort the guys put into this weekend."

Players had little time to celebrate their Super Regional performance.
The Dirtbags open the American Legion AAA state tournament against the Medford Mustangs Wednesday (today) at 9 a.m. The teams played a doubleheader on July 12, with the Dirtbags sweeping Medford 7-6 and 7-6.

The Dirtbags will be familiar with all of the eight-team field, having faced each squad at least once during the regular season.
Fellow league members Corvallis Marketmen and Withnell Dodgers of Salem also qualified for the AAA state tournament.

"We have to have the mindset of coming into the games that we can win and knowing that we can go in and hit the ball and be the best team on the field," Dirtbags pitcher Jarett Peterson said. "That's what it will come down to."
A loss against Medford and the Dirtbags will play on Thursday at 9 a.m. in an elimination game. A victory and the squad will play Thursday at 3:30 p.m. against the Portland Barbers or Roseburg.
As the Dirtbags begin what they hope is a deep run at state, players and coaches are hoping they are peaking at exactly the right time.

"You want to be playing well at the end," Kizer said. "If you play well at the end, good things will happen. We'll be ready to go."