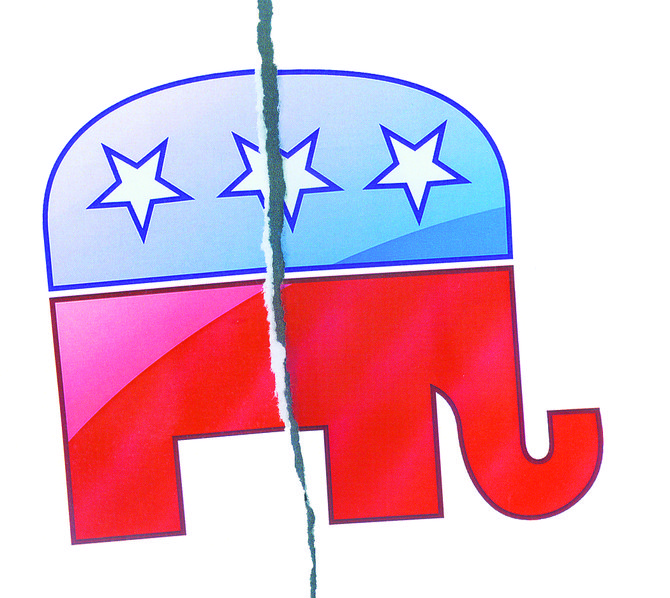 POLK COUNTY — When Lynette and Gene Henshaw joined the Polk County Republican Central Committee about seven years ago, Lynette wondered why there wasn't more participation in party activities.
Polk County is, after all, a very conservative area.
Lynette, also a member of the Polk County Republican Women, decided to organize an informal picnic to encourage local Republicans to reconnect with each other.
"I started this picnic with the Republican Women in hopes of bringing all Republicans of Polk County together for just a fun gathering to bring people together," she said. "It worked — for about four years."
But last year, she said, there were some prominent people missing, most notably members of the county central committee leadership.
It was what many of the more moderate branch of the party believe to be one of the first outward signs of a growing divide between social conservatives and moderates.
The separation came front and center during May's primary for House District 23, when incumbent Rep. Jim Thompson (R-Dallas) faced Polk County Republican Chairman Mike Nearman for the nomination. Nearman won in a landslide after a bitter campaign, shocking Thompson and his supporters.
More indications of a fracture emerged in June, when Dallas resident Beth Jones — a registered Republican — launched a campaign seeking the Independent Party of Oregon's nomination for House District 23.
"It was the ugliest primary I've seen," Jones said in late June when explaining her reason for seeking the nomination. "I was really unhappy with the direction the district was going in."
She won the IPO nod — despite Nearman, who wasn't seeking the Independent nomination, mounting a strong campaign against her.
Jones' victory would have put two Republicans on the ballot with Democrat Wanda Davis, but Jones ultimately decided to decline the nomination for family reasons.
A faction of the Republicans worry the split is putting the local party in danger.
Rep. Vicki Berger (R-West Salem), who is stepping down after this term, called the situation "a pretty ugly schism."
"It is unfortunate that it plays itself out this way because it's not helpful for the party," she said. "The more liberal element – they win because we are fighting each other."
Nearman acknowledged recent differences of opinion among Polk County Republicans, but attributes them not to a fracturing of the party, but to hard feelings in the wake of a difficult primary.
"That's normal after a primary challenge," he said, noting that he voted for Thompson numerous times in the past. "Some of it is politics and some of it is personal. It's that people had personal relationships and those were hurt."
As for a meaningful split in the party, Nearman said he doesn't see it happening.
"There's not really much there," he said, noting the local party is comprised of individuals of varying political views that don't always mesh. "We fight stuff out – just like any family."
The Henshaws – strong supporters of Thompson -- do say it was surprising to them he was defeated, but the issues run deeper than that. Lynette Henshaw said she and others are concerned too much attention is being paid to social issues, such as anti-gay rights and abortion.
While those weren't the only issues Nearman stresses, he received substantial financial support from anti-gay rights group Oregon Family Council and Oregon Right to Life in May's primary.
"There are so many things, so many issues, that we can't just concentrate on those two," Lynette Henshaw said. "And the young people of today, they are so over these issues. They don't want to hear any more about it."
Supporters of Nearman can fire back that, at least in the primary, voters did strongly support their candidate's stances on those issues and others, such as criticism of the disastrous Cover Oregon implementation and Polk County's failed public safety tax levy.
Additionally, Nearman said his and the party's platform encompasses much more than social conservatism.
"We are the Republican Party. We believe in the free market and opportunity for everyone," Nearman said.
He said the state's education system needs improvement and lawmakers should focus on ways to boost the economy, locally and statewide.
Still, both Thompson and the Henshaws said there are plenty of people left feeling they are not well-represented by current party leadership.
"A lot of people have left the party – not left as in re-registered, but left as in they don't attend (central committee) meetings anymore," Thompson said.
Gene Henshaw added he fears that problem will continue.
"I think they are becoming disengaged," he said, mentioning the approximately 32 percent overall voter turnout in May's primary. "It looks like to me like if there is only 30 percent, we are not getting a very representative vote."
Thompson added if the attacks on his willingness to work with Democrats on legislation are any indication of how Nearman, if elected, will interact with his fellow lawmakers, the district won't be well-served. The Democrat majority would simply ignore someone unwilling to compromise, he said.
Nearman countered that he isn't opposed to working with Democrats in principal. If they were looking to lower taxes, he would be right there with them, he said. But he is in favor of standing ground on certain issues – such as Cover Oregon, for which he heavily criticized Thompson.
"He got that one wrong," Nearman said.
Berger isn't just concerned for Polk County as the separation between the moderate faction and social conservatives widens. She said Thompson's experience – especially regarding health care -- will be missed in the House and is disappointed his defeat, in part, hinged on gay rights.
"None of these social issues are going to be decided by the legislature," she said.
"I'm concerned not just for the local party, but the party period," she continued. "I think it is a very sensitive moment for the Republicans on all levels."
Nearman disagrees and said the outlook is bright for the local group.
"The Polk County Republicans are pretty healthy. We have more PCPs (precinct committee people) than we have ever had since I've been involved.
"I think we have a very healthy party and we are active and doing things," he added. "If you are active politically, you tend to draw people to you."
Polk County Democratic Party Chairwoman Amanda Deyerle said a fissure in the Republican Party won't change its campaign strategy in House District 23 going into the fall. (did we ever find out if a Demo has held this seat?)
"Our plan is just to campaign and canvas and tell people about Wanda Davis and why we support her," Deyerle said.
Thompson isn't making predictions, but said Davis may have a shot.
"I don't know at this point what kind of campaign the Democrats are going to run," he said. "But there are a lot of Republicans who are really upset."