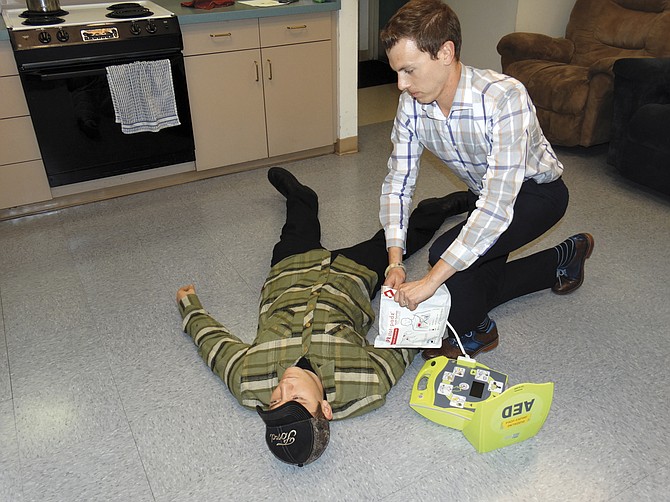 POLK COUNTY — Available first responders to cardiac arrest victims could multiply fast with a new app called PulsePoint.
The app alerts CPR-certified people within a quarter mile of a cardiac arrest event, helping increase survival rates, said Mike Niblock, Salem Fire Department chief.
Niblock unveiled the app at a press conference in Salem on Oct. 29. Six fire departments and districts, including Dallas Fire, Polk County Fire District No. 1 and Southwest Polk, are promoting the app.
Statistically, the app won't make as big a difference in Polk County as it will in Salem — Salem's population is much larger — but because Polk County's fire personnel have farther to go in rural areas, it could make a bigger difference individually, said Neal Olson, assistant chief at Polk County Fire District No. 1.
"We have longer response times versus suburban areas," noted Todd Brumfield, deputy chief of the Dallas Fire Department.
The app only alerts nearby Good Samaritans if the cardiac arrest event is in a public place. But out of three cardiac arrest survivals in the last three months, Brumfield said just one was at home.
"Two of them were in a public place," he said.
Right now, neither Polk No. 1 nor Dallas Fire offer CPR classes, but Niblock said Salem Fire will begin offering classes twice a month starting in January.
"The new hands-only CPR is push hard and push fast," he said. "You can't hurt somebody in cardiac arrest. You're not going to make it worse."
The goal is to provide 100 beats per minute. Niblock said to keep the rhythm to the song, "Stayin' Alive," by the Bee Gees.
"It's still getting circulation to the brain, still getting that blood pumping," he said.
Niblock said a rib might get broken during the process, but that is better than being dead.
Oregon's Good Samaritan laws help protect do-gooders who try to save a life, he added.
"You're not going to get in trouble," he said. "You're trying to help them."
Every minute counts when cardiac arrest strikes. Every minute without CPR means 10 percent less chance of survival without neurological deficiencies, Niblock said.
The PulsePoint AED app shows all publicly accessible automated external defibrillators (AED) in the area. CPR and AEDs can stop the clock on a cardiac arrest, buying valuable time for first responders, Niblock said.
When the alert is sent from local dispatch centers, CPR certified people who have the app downloaded and are in the area will be alerted to the location.
The free app is available for both Android and iPhone.