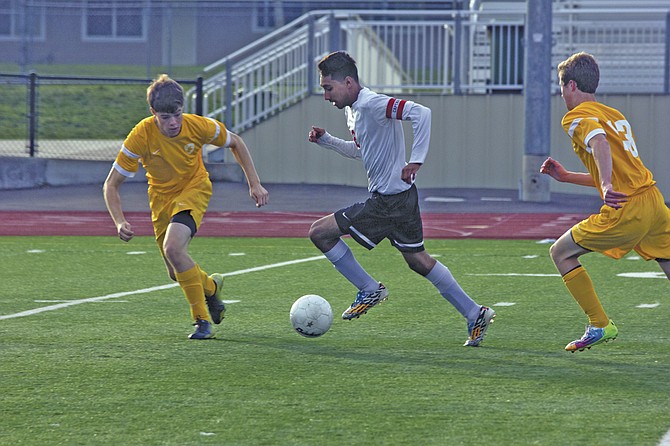 SPRINGFIELD — It's a feeling Central forward Vidal Zaragoza is no stranger to this season.
When the ball hits the back of the net, and the celebration of a goal begins, the senior craves more.
"(You feel) adrenaline," Zaragoza said. "You want to try and score another one against your opponent. You just get pumped up."
The senior leads the Panthers in goals with 12 in league play, including a four-match stretch where he scored seven times.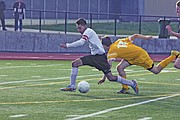 "I just took advantage of the chances that coach and my teammates gave me," Zaragoza said.
One of the team's captains, Zaragoza is doing more than just scoring since transferring to Central High from Mexico in 2013.


Once he arrived, it didn't take long for him to get acclimated to a new home and new team.
"The styles are similar, but I think it's harder to play over there," Zaragoza said. "I think there are more players who are more proficient in Mexico."
Soccer has been a family affair, with Zaragoza's father putting him on his first team 10 years ago.
From there, his love started to grow … although he learned to avoid a certain position.
"I don't like playing midfield," Zaragoza said. "You have to be in great condition and you have to run a lot. But my dad got me interested in it, and it grew from there."
Eventually, Zaragoza settled into the forward position, becoming a dangerous scoring threat that can slip by defenses, demanding attention wherever he is on the field.
"Vidal can score from almost anywhere, it seems like," Central coach Mike Lynch said. "He has the speed, accuracy and power to give opponents fits."
Yet, as the Panthers defeated Springfield 4-1 in a Class 5A play-in round match Friday, Zaragoza didn't score.
But he was as happy as can be that teammates Marcos Garibay, Marcos Rincon, Gregorio Herrera and Peter Orozco helped lead Central into Wednesday's first round state playoff match.
"Vidal didn't score, but he helped open the door for others to step up," Lynch said.
The Panthers, who had scored a total of four goals in their three previous matches combined, appeared to have rediscovered their stride.
"We had a lot of good communication," Zaragoza said. "We played a good game, took some chances with longer shots and we were able to put them away."
The Panthers are seeded 15th and will face No. 2 Hood River Valley Wednesday (today) at 6 p.m. The Eagles went 14-0 during the regular season, including ending the season with six straight shutout victories.
To end that streak, Zaragoza will likely have to play a big role as a scoring threat, either taking shots on goal or opening runs for teammates.
"We have to play as a team, come out hard and show them what we have," Zaragoza said.
Despite facing a team that hasn't lost this year, Lynch said Central has the tools necessary to compete at a high level.
"They play for each other," Lynch said. "At this point, we all want to win. I expect the boys to come out hard and come out prepared mentally. Physically, we're there. If we put 100 percent effort on the pitch, we can contend."
Class 5A Boys State Soccer
Who: Central Panthers (4-3, Mid-Willamette Conference No. 5; 7-4-4 overall) vs. Hood River Valley Eagles (6-0, Columbia River Conference No. 1; 14-0 overall).
What: Class 5A state soccer playoffs, first round.
When: Wednesday, 6 p.m.
Where: Henderson Stadium, Hood River.
Admission: Adult, $6; students (ages 5 and up), $4.
What's at stake: The Central-Hood River Valley winner advances to play the winner of Wednesday's Mountain View-Putnam match in the 5A state quarterfinals on Saturday. Losers are eliminated.