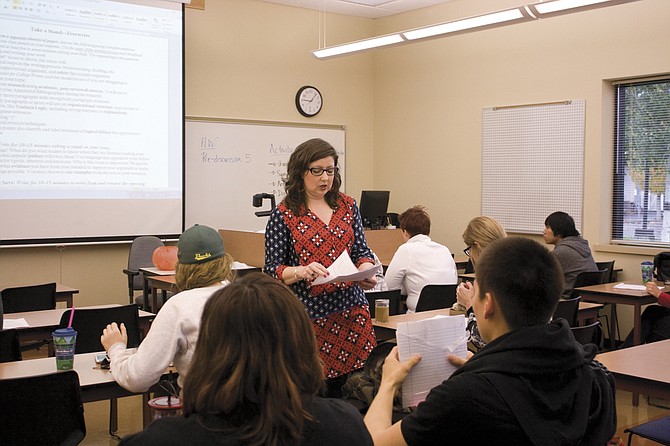 DALLAS — Brian Green, assistant principal at Dallas High School, remembers pulling a student into his office the first year the school offered its fifth-year — and now sixth-year — program, Extended Campus.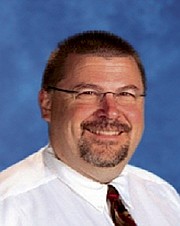 He asked the student to meet with him to tell him he was one of 20 students accepted into the program.
"He was pretty emotional," Green said. "He said, 'I never thought I would have an opportunity to go to college. Mr. Green, I will be the first one in my family.'"
Green, coordinator of the Dallas High program since its inception in 2005-06, will never forget that moment.
"I can tell you, that is a direct result of this program," Green said. "Every year, we have kids in that boat."
Extended Campus offers DHS students a chance to attend one or two years of classes at Chemeketa Community College at no cost through a contract established between the high school and college.
Essentially, those accepted are pursuing an advanced diploma — local school districts are allowed to set graduation standards higher than those required by the state — and therefore remain high school students, even though they have met all requirements to receive a standard diploma.
Because they still are considered high school students, the state continues to pay for their education — about $6,500 per year — which the school district uses to pay for their tuition, fees, books, transportation expenses and counseling services.
Originally just a fifth-year program, last year DHS and Chemeketa teamed up to offer a sixth year, allowing students to earn a certificate or transfer degree at no cost.
In the nine years since the program began, 472 students have participated. Including students from Morrison Alternative School, there are about 130 Dallas students currently enrolled in Extended Campus.
Dallas, along with Woodburn High School, was one of the first to implement the fifth-year, but now several school districts have developed similar offerings, including Central, Falls City, Albany, Corvallis and Lebanon.
Program success
Green believes the popularity, and the cost, of the program is justified given the outcome. Extended Campus boasted a 78 percent first-year retention rate in 2013-14 — meaning almost 80 percent of the students enrolled in the fall completed their first year — a rate significantly higher than for traditional college students.
What's more, Green said many of those who left the program went on to attend another college or entered military service. He estimates the actual "dropout" rate to be 10 percent or less.
With statewide focus on creating a "seamless transition" from high school to college, Green believes Extended Campus is an exemplary model.
"I believe we have a program that is proven … and we have the data to support it," he said.
Advocates — and especially students — of the program don't need much convincing.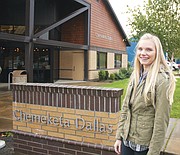 Bethany Steele is beginning her second year in the program, pursuing a transfer degree hoping to major in business. Steele, 19, said the location — Chemeketa has a campus adjacent to the high school — small class sizes, and especially the cost were attractive to her.
She said the best aspect of the program is that it makes college available to all students.
"I think it's a great opportunity for those students who aren't able to go to college because they can't afford it," Steele said. "There is really nothing blocking the door. They pay for books, tuition … and even (transportation)."
Abby Hoffar, Chemeketa's dean of high school programs, said Green and Chemeketa counselors work hard to make sure Extended Campus students are given access to all the resources they need to succeed.
"(The retention rate) is much higher because of the support system we offer," she said.
Gina Hess, now completing her final term in the program and hoping to transfer to a nursing program, said advisors were critical for her.
"It was confusing, so they helped me a ton," Hess said. "It saved me a lot of confusion and time."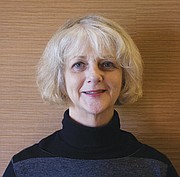 Like Green, Susan McNaught, the Chemeketa Dallas Campus dean, said the program is a model for how to achieve statewide college attendance goals.
"We are putting our money where our mouth is," she said. "We know that this works and we know it works well. … It's a doorway, a really cool doorway."
Green said Extended Campus was born out of budget cuts. It was Dallas High's answer to replacing programs lost in the early 2000s, particularly vocational instruction. It's also a way for Dallas to offer the same opportunities as bigger school districts.
"This has been a way for us to compete, to provide resources and opportunities for kids that just evens the playing field," he said.
A question of funding
Extended Campus, and other programs like it, have become a focus of talk in educational circles — both for their benefits and controversy surrounding how they are paid for using the K-12 state school fund.
This summer, the Oregon School Board Association's (OSBA) Legislative Committee included a provision to bar the use of the state school fund for fifth-year programs.
"OSBA believes the state should instead establish a dedicated source of funds to invest in these programs that does not dilute the State School Fund," read the committee's proposed 2015 legislative priorities, which have yet to be approved by OSBA's member districts or its board.
In a recently published column in The Oregonian, Tim Nesbitt, the chairman of the Higher Education Coordinating Commission, highlighted Dallas' Extended Campus accomplishments, but noted it depends on "an unfair and unsustainable funding mechanism" if it was widely copied. But because of its success, he asked the state to find an answer to the funding question.
Mike Blanchard, Dallas School Board chairman, said he anticipates fifth-year programs will be a topic of discussion this upcoming legislative session. He's hoping aspects of successful fifth-year programs —such as local control and strong support systems — will remain in the end.
"This is a creative way to get to where we want to be," he said.
Green added whenever that discussion happens, he wants Dallas to be part of it. He's invited lawmakers and state education officials to take a close look at the program before making any decisions.
"I have a passion for this program because I see all the good it does," he said. "This really gives me a reason to get up and come to work every day. I love working with these kids.
"This is an answer," he added. "You just have to figure how to fund it."
Extended Campus By the Numbers ...
• 2005-06 — The school year the Extended Campus Program was introduced at Dallas High School.
• 472 — The number of students who have participated in the program since its inception.
• 130 — The number of students who have enrolled in Extended Campus who are the first in their family to attend college.
• 38 — Students who are taking advantage of a "sixth-year," offered for the first time last year, to finish a certificate program or transfer degree.
• 20 — The number of students who enrolled in the first year, 2005-06. The Dallas School Board increased the limit by 10 each year until it reached 50. After that year, no enrollment limits were placed on Extended Campus.
• 100 — Percentage of Extended Campus students who have met high school graduation requirements.
• 78 — Percentage of students enrolled in 2013-14 who completed their first year. DHS estimates only about 10 percent actually "drop out," the rest transfer to another college or join the military.
• 25 — Roughly the percentage of the Dallas High Class of 2014 enrolled in Extended Campus. The program averages between 20 and 30 percent of each graduating class.
• 3.08 — Grade-point average of program participants in 2013-14.