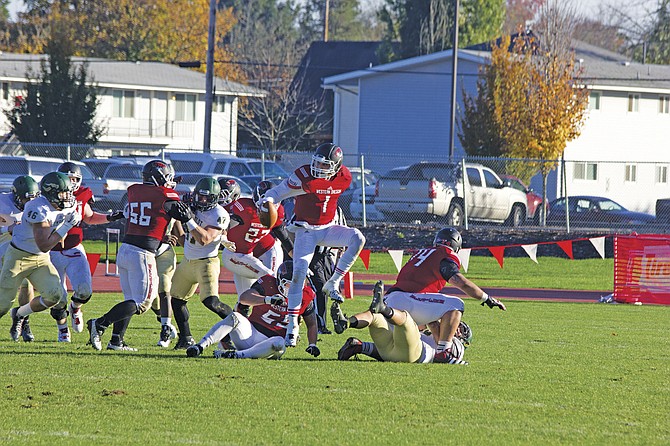 MONMOUTH — It's something that's happened numerous times before throughout their careers at WOU.
Yet, when Western Oregon quarterback Ryan Bergman hit receiver Tyrell Williams for a 72-yard touchdown in the third quarter against Humboldt State on Saturday, it was a pass that neither player will forget for a long time.
"That was awesome," Bergman said. "There's nothing like throwing the ball to that guy. He's an amazing specimen, an amazing athlete. I always know where he is on the field. I'm glad I could get one more deep ball to him at home before we were done here."
With a Great Northwest Athletic Conference football championship out of reach, Western Oregon settled for a 33-31 victory in its home finale, giving its seniors, including Bergman and Williams, a lasting memory.
"It means everything," Williams said. "Being out of contention for the GNAC title, a win on senior night, and against Humboldt State, which is probably my biggest rival since I've been here, it was awesome."
It was fitting the seniors came up big for the Wolves in their home finale.
Running back Nathaniel Penaranda scored WOU's lone touchdown in the fourth quarter on a 41-yard run, putting Western up two possessions with less than four minutes to play. Kraig Akins had 10 tackles and two sacks, while Bergman finished with three passing touchdowns.
"(It was) up and down," Wolves coach Arne Ferguson said. "Humboldt is a very good team, so it took us a while for the offense to score a few points, and they did a really nice job on that.
"Our (defensive) line came out really strong. We let some passes get by us, and we're still growing in that area. It was a very close game, but at the end we really felt that our offense came through, our defense came through in very critical situations, and our special teams did a nice job. Overall, it was a very good team win against a very good opponent."
The Wolves close out their 2014 season Saturday at South Dakota School of Mines.
"Obviously, we go into every game expecting to win," Ferguson said. "We expect our (defensive) line to continue doing a great job and the development of them. Our (defensive backs) are going to have to continue to get better. We started some new guys for the first time this game. They did a nice job, but they need to gain more experience and be able to attack the ball with deeper passes."
Bergman will enter Saturday's contest four passing touchdowns shy of tying the all-time career mark of 60, held by former WOU quarterback Mark Thorson, who played for the Wolves from 2004-2007.
Bergman, who began his football career as a receiver in middle school, hasn't been worried about records. Instead, he's been worried about getting on the field because of a right shoulder injury that will require surgery after the season.
"There are a lot of great guys on the team relying on me," Bergman said. "I couldn't sit there and watch the rest of the season with them competing and working their butts off. I had to go out there and help the Wolves."
What the future holds for WOU's seniors remain to be seen. On Saturday, Bergman wasn't worried about what will come next. Instead, he was enjoying one last moment at McArthur Field.
"This (win) is definitely up there," Bergman said. "I've had a couple pretty special ones here, but there's nothing like a home win on my senior day against Humboldt State. It means a lot. It's truly special."