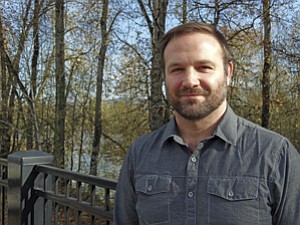 INDEPENDENCE — Joe Landry is taking the city of Independence for a test drive, putting the finishing touches on his project management app.
The beta — or initial — version of the app is already being used by his friends and family.
Landry, a Dallas native, hopes after the 90-day Test Drive Independence program, he will have a version of the app that is ready for people to start using.
"The idea for this app is essentially a project management app, a central place where you can be social with your team members and talk about the project as it develops," Landry said.
The Test Drive program supplies entrepreneurs and business people with 10 gigabits of data from MINET and office space in the Independence Civic Center for 90 days while they develop or polish up technology-related products.
Landry will use the data center at the MINET office to let people access the app on their browser. He said his focus for the initial testing group will be those in the Northwest.
"The thing that Monmouth and Independence have is this really fast infrastructure, so you can post apps at the S-Curves and access that anywhere in the world," he said.
Landry calls his app Pipeline.
"It's kind of the idea of pipeline management," he said. "You have these projects that you're bidding, these are active, these are closing, these are completed."
Pipeline will allow users a central spot to communicate with others on the team, share documents, and track time, revenues and expenses.
People could use the app to plan anything, like a day planner, Landry said.
"I could plan my funeral on there," he said with a laugh. "I'm thinking to keep it versatile."
The app will be offered for free initially, allowing users to keep task lists, calendars, reminders and notes in one place.
For more information: www.pipeline-e.com; email to support@pipeline-e.com.