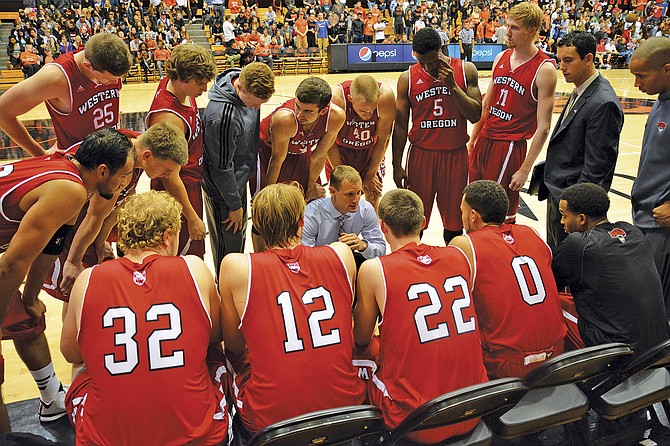 MONMOUTH — Western Oregon's men's basketball squad split a pair of exhibition games, defeating Oregon State 57-47 on Friday before falling to Oregon 104-55 on Sunday.
Junior forward Andy Avgi scored a game-high 21 points against the Beavers on Friday, while Jordan Wiley and Devon Alexander added 12 and 10 points to help lead the Wolves.
"(Friday's win) feels good, really good," WOU coach Brady Bergeson said. "We're off to the start that we wanted in terms of execution and trademarks that we are trying to establish early on, so that part feels like we are on the right track."
Western Oregon jumped out to an 8-0 lead against the Ducks on Sunday, but Oregon rallied in the first half to take the lead and pulled away for the victory.

The Wolves open the regular season at the Great Northwest Athletic Conference/Pacific West Conference Challenge on Friday and Saturday. WOU will play Point Loma Nazarene on Friday and Fresno Pacific on Saturday at San Diego.
VOLLEYBALL FALLS ON THE ROAD: Western Oregon's volleyball team dropped a pair of GNAC matches last week. The Wolves lost to Simon Fraser 25-22, 26-24, 22-25, 20-25, 15-12 on Thursday before falling to Western Washington 25-10, 25-14, 25-19 on Saturday. Outside hitter Alisha Bettinson led WOU with a season-high 17 kills against the Clan on Thursday. Western Oregon (4-20 overall, 2-14 GNAC) closes out its season with a pair of home matches Thursday against Seattle Pacific and Saturday against Montana State Billings. Both contests begin at 7 p.m.
WOMEN'S BASKETBALL DROPS EXHIBITIONS: Western Oregon closed out its exhibition schedule with a 70-60 loss to Portland on Nov. 5 and a 98-38 loss to nationally ranked Oregon State on Sunday. WOU forward Dana Goularte led the Wolves with a combined 42 points during the two contests, including a game-high 25 points against the Pilots. Western Oregon opens the regular season by hosting the Hampton Inn & Suites D2 Shootout on Friday and Saturday. Saint Martin's, Regis and Cal State East Bay will also be competing.