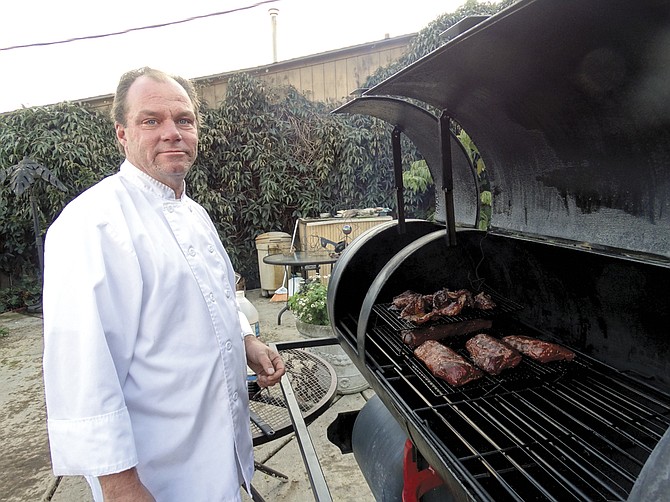 INDEPENDENCE — When he was 21, Rollin "Ray" Walter was told by his first chef that if he was serious about cooking, he should study at a French school, Le Cordon Bleu.
After trying out a plethora of other careers, Walter, now 48, finally graduated from the school's Portland location in June.
"I cook," he said. "It's what makes my heart beat. I've tried (other careers) trying to find what makes my heart beat, when all the time it was cooking."
Walter and his partner Devon Spencer, 59, met while working as cooks at Meals on Wheels in Salem. The pair have ventured into the chef's incubator program at 2EZ Café in Monmouth to open IndePIT, a barbecue dinner destination.
"We use all solid woods — oak, apple, alder," Walter said. "I'm trying to get a hold of some cherry, and I've got a connection on filbert wood, also."
The baby back ribs, beef brisket — it can be cut with a plastic spoon, Walter said —and chicken dishes are slow cooked on low heat for six to eight hours. The meats are never sauced, though they are served with house-made sauce.
Walter said he uses a dry rub on the meats.
"So far what the customer is liking is that we don't cover up our six to eight hours of cooking with flavor with sauce," he said.
Dinners are typically served with baked beans, potato salad and some kind of corn bread, with a dessert, such as a six-layer chocolate stout cake. Prime rib is coming soon, as are daily house specials.
He serves amuse-bouche with every order. Unlike appetizers, amuse-bouche is a small serving not ordered by the customer.
"It's a sight and taste experience of what's to come," Walter said.
For his barbecue chicken, it is a chicken wing turned inside-out and on one bone, cooked next to the chicken in the above-ground, closed barbecue pit on the patio of the 2EZ Café.
"We're not your typical barbecue," Walter said. "At IndePIT, we have this inside-out attitude to barbecue."
Give It A Try
What: IndePIT Barbecue.
Where: Inside the 2EZ Café, 211 S. Main St., downtown Independence.
When: The restaurant is open for dinner Wednesday through Saturday from 5 to 8 p.m.
Of note: Because of the nature of the business, when the food is gone, it's gone. Rollin Walter recommends calling ahead of time to make selection reservations to ensure he will have what you want.
For reservations or more information: Walter, 503-983-0152; 2EZ Café, 503-837-0239.