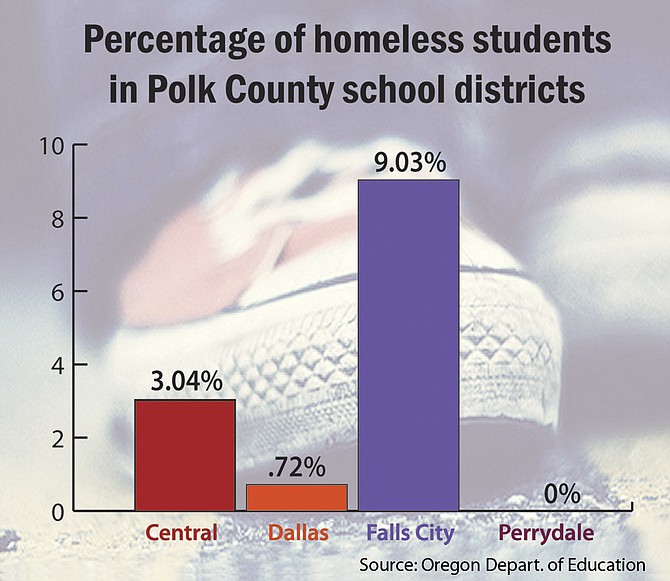 POLK COUNTY — During the 2012-13 school year, the number of homeless students reported in Falls City was so small — between one and five — the Oregon Department of Education (ODE) didn't release the number to protect their identities.
But in the 2013-14 homeless student report ODE released last week, the number of students in Falls City without permanent shelter has risen dramatically to 14, or about 9 percent of the district's total enrollment.
Superintendent Jack Thompson said the increase is attributed to a number of families who are living in "non-traditional" housing and also better observation on the part of school district staff.
Falls City is in a partnership with Polk County to provide a school-based mental health counselor, Corrine Symolon, who Thompson said has been making strong connections with students in need.
"Having her as someone to confide in, I think we were made aware of more (homeless) kids than in the past," Thompson said.
Homeless student numbers were down in Dallas and Central school districts for 2013-14.
Dallas had 23 students, or .72 percent, reported as homeless at some point, down from 33 students the year before. Central reported 93 (3.04 percent), down from 110 identified in 2012-13. Perrydale School District reported no homeless students the past two years.
Students are considered homeless by ODE if they live in a shelter, are "doubled-up" — living with friends or family members outside their immediate family — or stay in motels, cars or other places.
Most of those reported as homeless in Central (82) and Dallas (16) fall into the "doubled-up" category.
Central Superintendent Buzz Brazeau said those situations can vary, from the student having their own room in a large home to having to sleep on a couch in a crowded house.
The impact on their education can vary accordingly. He said if a child is worried about where they will sleep or where their next meal is going to come from, it's understandable that learning wouldn't be easy or a priority.
To counteract that, the district assigns a liaison to work with students and families and provides free breakfast and lunch to students who qualify. Extra instructional time and support is available to students who need it and donations provide the schools with clothing to offer.
"We are trying to make sure that basic needs are filled," Brazeau said. "If they are not fulfilled, we're fighting an uphill battle."
In Falls City, the majority of homeless students, 10, are in the "unsheltered" category.
Thompson said, for the most part, those students aren't sleeping on the street or in cars.
"We have the trailer park here in town," he said. "Living in a travel trailer is a non-traditional form of housing and we have students living there full time."
Like Central, Thompson said his district works to help ease the burden on those kids and their families.
Free breakfast and lunch is offered at the schools and students are welcome to join the district's after-school program, FACES, which serves dinner. District officials try to help families access resources through other organizations and even allow kids to shower or wash clothes at the schools if they have no other place.
"That puts some real challenge on kids; it's hard," Thompson said of being homeless. "We do what we can to help them overcome that."
Statewide, there were 18,902 students in grades kindergarten through 12 who were reported homeless in 2013-14, an increase of 737 students from 2012-13. There were an additional 1,114 homeless students reported in public preschool and Head Start programs across the state.