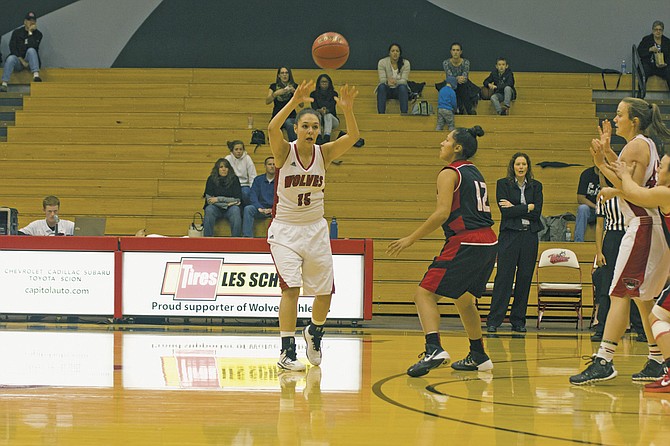 MONMOUTH — Western Oregon freshman Sydney Azorr is perhaps one of the Wolves' most-hyped women's basketball recruits in recent history.
The 5-foot-10 guard arrives as a three-star shooting guard according to ESPN.com and was a McDonald's All-American nominee.
"I always knew I wanted to play basketball in college," Azorr said. "I wanted to get a scholarship to help my family out."
Azorr began playing basketball in fourth grade. From there, the sport quickly became a passion.
"I always had great coaches and teammates that made it a lot better for me," Azorr said. "I love the game. It's awesome. There's nothing like having that energy and playing hard."
As a senior in high school, Azorr was named first team all-Three Rivers League, helping Clackamas High place sixth in the Class 6A state tournament.
It was Azorr's visit to Western that clinched her decision to play in Monmouth.
"I liked the players and the coaches, and this was close to home," Azorr said. "Overall, I liked the school a lot better (than other schools)."
WOU coach Holli Howard-Carpenter said Azorr will get plenty of opportunities to make a big impact in her first year with the team.
"Sydney is very versatile," Howard-Carpenter said. "She can play at the top or bottom of the zone. She's strong. She can jump and she can rebound. She finishes well up and down the court in transition. Even in the first few weeks, we've seen her take her game to the next level."
Azorr played 25 minutes during a 69-54 season-opening loss to Regis on Friday, and 17 minutes in a 66-61 setback to California State East Bay on Saturday, when she recorded six points and four assists in her first collegiate start.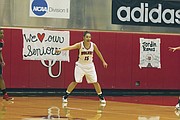 "It's a lot different than high school," Azorr said. "It's a different level of competition. It's a lot faster and a lot more intense. But I really like it. It's a lot of fun."
Western Oregon was missing multiple players due to injuries during last weekend's openers, including starting guard Elise Miller. But no matter how big her role is, Azorr is ready to play.
"I just want to contribute to the team as much as I can in any way that I can," Azorr said.
Azorr joins returning forwards Dana Goularte, who was named to the preseason all-GNAC team after leading the Wolves in scoring (17.8 points) and rebounds (8.2) per game last season, and forward Kelsey Henry, who averaged 7.5 points per game, and Miller, who led WOU in assists with 58.
The Wolves were picked to finish ninth out of 10 teams in the preseason GNAC coaches' poll.
But with a mix of returning starters and newcomers expected to play a big role in the rotation, WOU is aiming to surprise the conference and compete for a GNAC title.
"This year, our attitude has changed a little bit," Howard-Carpenter said. "We've set some pretty high goals. Now, it's up to us to achieve those goals. Our upperclassmen are so invested in what we're trying to do and we're holding each other accountable."
As WOU, which played at Concordia Tuesday after press time, prepares to host Humboldt State on Saturday, the Wolves are looking to continue to improve.
And if they can do that, Howard-Carpenter said Western Oregon has what it takes to hang with anyone in the conference.
"It's about discipline and trusting in the system," Howard-Carpenter said. "With half new and half returning players, we're building trust. I'm ready to go. This group is ready to go. Each year we have to get better, and I think we've done that."
Western Oregon Basketball
Coach: Holli Howard-Carpenter (second season).
2013-14 record: 6-20 overall, 3-15 GNAC.
Key returners: Dana Goularte, senior forward; Elise Miller, junior guard, Kelsey Henry, junior forward.
Key newcomers: Sydney Azorr, freshman guard; Emily Howey, junior center.
Local ties: Mo Topasa, Independence, freshman guard from Central High School.
2014-15 SCHEDULE
Oct. 28 Warner Pacific (exhibition) W 61-55
Nov. 5 at Portland (exhibition) L 70-60
Nov. 9 at Oregon State (exhibition) L 98-38
Nov. 14 Regis L 69-54
Nov. 15 Cal State East Bay L 66-61
Nov. 18 at Concordia 7 p.m.
Nov. 22 Humboldt State 2 p.m.
Nov. 25 at Corban 5 p.m.
Dec. 4 at Northwest Nazarene * 5:15 p.m.
Dec. 6 at Central Washington * 5:15 p.m.
Dec. 13 at California Baptist 5:30 p.m.
Dec. 17 vs. Holy Names (Las Vegas) Noon
Dec. 18 vs. Dixie State (Las Vegas) 5 p.m.
Jan. 3 Saint Martin's * 2 p.m.
Jan. 8 Alaska Anchorage * 5:15 p.m.
Jan. 10 Alaska Fairbanks * 5:15 p.m.
Jan. 15 at Western Washington * 7 p.m.
Jan. 17 at Simon Fraser * 7 p.m.
Jan. 22 Seattle Pacific * 7 p.m.
Jan. 24 Montana State Billings * 3 p.m.
Jan. 31 at Saint Martin's * 5:15 p.m.
Feb. 5 at Alaska Fairbanks * 7 p.m.
Feb. 7 at Alaska Anchorage * 5:15 p.m.
Feb. 12 Simon Fraser * 7 p.m.
Feb. 14 Western Washington * 7 p.m.
Feb. 19 at Montana State Billings * 7 p.m.
Feb. 21 at Seattle Pacific * 5:30 p.m.
Feb. 26 Central Washington * 7 p.m.
Feb. 28 Northwest Nazarene * 5:15 p.m.
Great Northwest Athletic Conference game