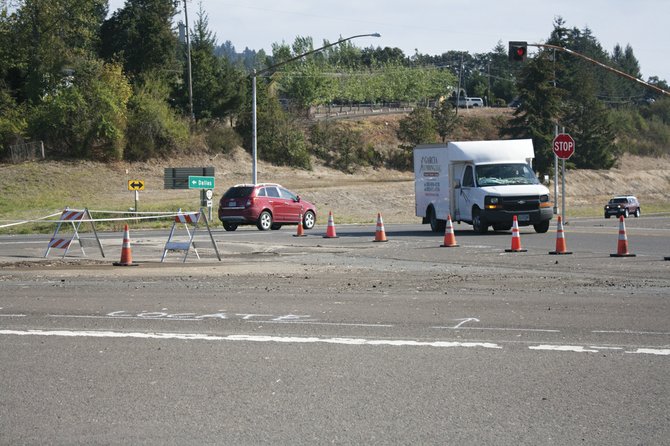 POLK COUNTY — The Oregon Department of Transportation will be closing off Highway 51 at its intersection with Highway 22 Oct. 10-13 for an emergency repair project.
The closure is required to fix a failed culvert approximately 20 feet under the road surface that is causing a sinkhole.
Jeff Shambaugh, Oregon Department of Transportation (ODOT) maintenance and operations project manager, said the sinkhole is now on the shoulder of Highway 22 at its intersection with Highway 51, but has the potential to spread to travel lanes.
The detour around the repair site will have vehicles traveling eastbound on Highway 22 diverted to Oak Grove Road and westbound traffic to Greenwood Road. Drivers traveling northbound on Highway 51 wishing to turn left onto Highway 22 also will be detoured to Greenwood Road.
The right eastbound lane of Highway 22 will be closed during the repair project, which will require crews to dig a gigantic ditch to reach the damaged section. The Highway 51 northbound to Highway 22 eastbound ramp will remain open during construction.
Detour plans have answered county officials' concerns about the original proposal introduced last week.
ODOT first proposed diverting all traffic to nearby Oak Grove Road, the option deemed the safest, quickest and least expensive by ODOT engineers. That worried Polk County officials, as it would require westbound drivers turning left to cross eastbound traffic merging into one lane to make room for the repair.
Todd Whitaker, county public works director, said he would prefer to see cars turning left be sent to Greenwood Road. He noted the Greenwood Road intersection is lighted for better visibility at night, it has a straight alignment, and has a turn pocket, none of which exists at Oak Grove.
"I'm just trying to get past the statement by the (ODOT) traffic control engineers that say two intersections have equivalent safety," Whitaker said at the Polk County Board of Commissioners' Sept. 24 meeting. "To say that that is equivalent safety to me is mind-boggling."
Shambaugh met with the board and county officials at the Sept. 24 meeting specifically to hear concerns about the detour and said he would take the Greenwood Road suggestion back to project managers to modify detour plans.
"In our opinion, we were trying to do everything that was asked of us and we want to work with you guys," Shambaugh said. "We are trying to (get this done) as soon as possible and as quickly as possible."