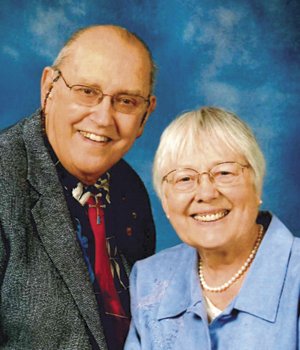 VanElverdinghe — 60th
Robert and Gloria VanElverdinghe of Dallas celebrated their 60th wedding anniversary Sept. 14 with their family getting blessed by their church and then going to Orchard Heights Winery for brunch.
Robert James VanElverdinghe and Gloria Edna Stluka were married on Sept. 11, 1954, at St. Thomas the Apostle Church in Beloit, Wis. Father Thomas O'Reilly performed the ceremony. The couple was attended by Wesley Foster, Jo VanElverdinghe, Gordon and Betty Ronde, Jerry Ronde and Deedee Lee.
The couple has lived in Polk County since 1970, having previously resided in Beloit, Wis., Aurora, Ill., and Millbrook, Ill.
Robert retired in 1982 from Caterpillar in Dallas as a journeyman machinist and tool designer. Gloria retired in 2004 from Polk County Public Health as an administrative support person.
Robert and Gloria love spending time with their family and friends and are active members of St. Philip Catholic Church in Dallas, where Gloria is the organist.
Their family includes Vicki and Ralph Duesterhoeft of Dallas, Wendy and Adam Jamerson of Salem, Bobby and Paula VanElverdinghe of Dallas, Teresa and Allin Fenton of Dallas, Jeff and Cherrie VanElverdinghe of Dallas, Susan and Eric Gillett of Olympia, Wash., Lisa Van of Dallas, Michele and Andres Galvan of Beaverton, and Chris and Lori VanElverdinghe of Oregon City. The couple has 21 grandchildren and seven great-grandchildren.
More like this story