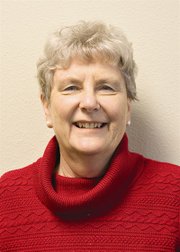 Wilma Simons just returned from a 10-day camping trip to Tahkenitch Lake between Florence and Reedsport with her friend, Bob Small, and her nephew and his wife, John and Gail Simons from Dallas. They caught lots of perch, crappie and bass to freeze for the winter. The weather was perfect, so they had lots of fun walking around visiting other campers, relaxing and watching the kids play in the water.
—
Mel and Marguerite Nice spent a great deal of September traveling. The first week they took an Alaskan cruise for their 52nd anniversary, then went straight from there to Boise, Idaho, to attend the Gideon's Southwest Idaho/Oregon convention. There, Marguerite was elected vice president of the Gideon women. She had been president a few years ago and so was surprised they re-elected her. After the convention, the Nices drove on to Yellowstone, where Mel went fishing and happily caught a 30-inch trout.
—
Diane Telfer has been kept busy by the American Red Cross, who she and Paul volunteers for. She just got home from Weed, Calif., where she spent 10 days helping after a wildfire devastated much of the area. That area lost 150 homes two weeks ago, when the Boles Fire in Northern California raced through the small town. One high point was that the elementary school children knew just how to evacuate because of several fire drills they had earlier.
—
On the last weekend in September, June Clark spent four days riding more than 1,200 miles on her motorcycle/sidecar, hitting eight checkpoints for the Rose City Motorcycle Club's 38th annual "Grand Tour."
The Grand Tour is a road tour event where participants go to checkpoints at different locations in their motorcycle travels around the state and region for a chance to win one or more of many prizes offered.
June, 72, went from Hiouchi, Calif., outside Crescent City, to Camp Sherman and Post in Central Oregon, to South Bend, Wash., and then home. Three days were very enjoyable and reminded her why she loves to take off on her bike. Sept. 29 was mostly wet and not as enjoyable, but still an adventure. Would you believe the worst rain was for one-half mile on Highway 22 as she drove past the Perrydale Road intersection?
—
The Pedee Women's Club has started making candy for its annual holiday fair, which will be on Nov. 8. It's always on the second Saturday in November, which is early this year, so stay on your toes and don't miss it.