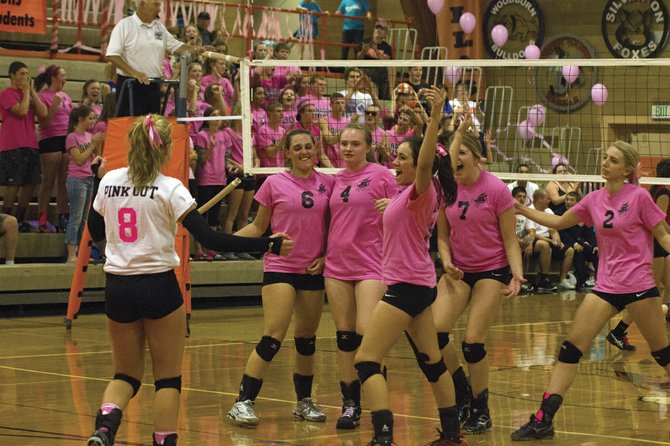 DALLAS — In the middle of Dallas' 25-23, 18-25, 25-17, 25-16 win over Central on Monday, junior Cambria Blair wasn't worried.
Sure, the Dragons and Panthers stood tied at 15 in the fourth set, but Blair knew they had it in the bag.
"I was seeing a whole lot of fun," Blair said. "I was seeing the girls talking to each other and playing their hardest."
Since the third grade, Blair has been playing volleyball and nothing else. The reason? The Blair household loves volleyball, from her father who coaches, to her younger siblings who play.
"We talk about it a lot," Blair said. "We have volleyballs laying around the house. We have a sand court. It's part of our everyday life."
That love not only made Blair into a better player, it helped her keep things in perspective.

"I expected a hard season, but I knew I was going to have fun," Blair said. "I know the girls and we are ready to keep fighting."
That positive outlook has made Blair one of Dallas' emotional leaders.
"Cambria is one of the most positive influences on this team," Dragons coach Shana Lavier said.
But Blair, who recorded a team-high 13 kills on Monday, is also producing in a big way off the court.
That's not a surprise, given Blair's dedication to the sport.
"I've never played another sport and I don't wish I had," Blair said. "I just love volleyball and it's what I've been doing for a long time."
Dallas (10-4 overall, 6-3 Mid-Willamette Conference) knows it's in the midst of a race for a postseason berth. And the squad can't take anything for granted going forward.
"Every match is huge," Lavier said. "At any given time, anyone in our league can be beaten and that's what I love about this league."
The Dragons host South Albany Wednesday (today) at 6 p.m. before facing Corvallis on Tuesday.
But Blair isn't about to let the pressure of the postseason bother her or her teammates, because, after a lifetime of playing, Blair said she's learned it's not all about who comes out on top.
"We just need to have fun," Blair said. "Yes, I love to win, but it's not ultimately about the winning. It's about having fun and loving what you're doing."