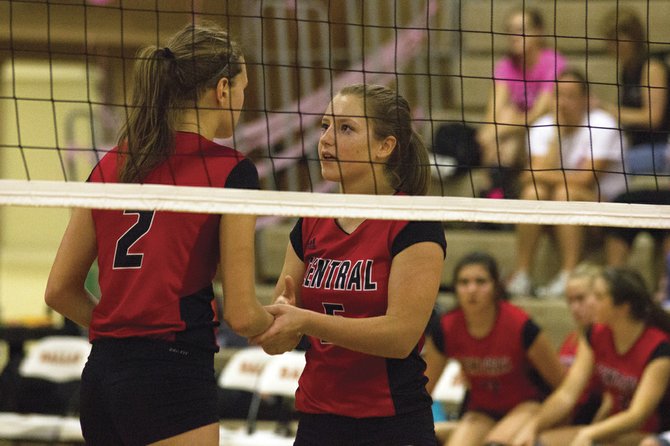 Central earned its first two Mid-Willamette Conference wins of the season before falling to Dallas on Monday.
The Panthers (2-7 MWC) defeated South Albany 25-23, 25-11, 25-14 on Thursday and Woodburn 25-17, 25-11, 25-21 on Sept. 30.
Paris Orin had 10 kills and Kylie Nash recorded 25 assists against Woodburn.
Freshman Krista Omlid led the Panthers with nine kills against South Albany. Ryanne Huffman had two aces, while Julie Kenyon added four blocks.
Central hosts Crescent Valley Wednesday (today) at 6 p.m. before facing Lebanon on Tuesday.
MOUNTAINEERS EARN LEAGUE SPLIT: Falls City (5-4 overall, 4-4 Casco League) split a pair of conference matches, falling to Country Christian 25-7, 25-5, 25-10 on Sept. 30 before defeating C.S. Lewis Academy 15-25, 25-22, 25-17, 25-8 on Thursday. Allison Kidd had six service aces during the two matches. Anna Lammers recorded 11 digs, while Sairah Ziola added eight digs during the two matches. Falls City also welcomed a new player, Tierra Reynolds. Reynolds, a senior transfer, gives the Mountaineers a substitute off the bench. The Mountaineers, who hosted Jewell after press time Tuesday, face Willamette Valley Christian on Tuesday.
PERRYDALE DROPS TWO OF THREE: Perrydale lost two of three league matches to St. Paul and Kennedy and defeating Santiam. The Pirates lost to Kennedy 19-25, 25-22, 25-18, 25-17 on Monday. Perrydale defeated Santiam 26-24, 25-14, 25-13 on Thursday after falling to St. Paul 25-22, 25-19, 25-19 on Sept. 30. No details were provided. The Pirates play at Western Mennonite Wednesday (today) and at East Linn Christian Academy on Tuesday.