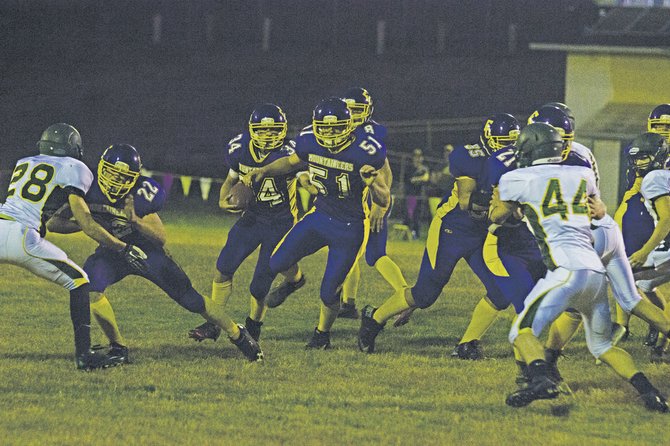 FALLS CITY — It's been more than three decades since Falls City's football team has qualified for the state playoffs.
The Mountaineers lost to Triangle Lake 52-30 on Friday, the team's second-straight setback. Falls City now faces a must-win game Friday at Alsea if it wants a chance to end that streak.
Senior running back Tristan Yeager had 297 rushing yards and three touchdowns to lead the Mountaineers, who led 14-8 in the second quarter. But Falls City gave up 21 straight points as Triangle Lake took the lead for good in the second quarter.
At 2-2 in league play, the Mountaineers enter their league game at Alsea on Friday in third place.
Win, and Falls City would face the East Division's No. 2 seed with a trip to the Class 1A state playoffs on the line. Lose, and the Mountaineers could miss the playoffs altogether.
"When you're successful, it becomes a habit," Falls City coach Laric Cook said. "You have that attitude that there's no way we're going to lose. That's what we have to build here. They work hard. They play hard. Now they have to believe."
Alsea enters Friday's game with a 0-6 overall record, with all losses by 42 or more points. But Falls City players know what is at stake and aren't ready to take the Wolverines lightly.
"Everyone is working hard and putting everything they have out there," junior running back Zach Weems said.
To come away with a win, Yeager and Weems will likely be called upon to lead the offense on the ground.
Despite a two-game losing streak, Cook's message to his team was to remember just how far they've come in a short amount of time.
On Friday, Falls City will have a chance to take another step toward doing something the school hasn't done since before they were born and give the Mountaineers a chance to compete in the state playoffs.
"This would give them a sense of accomplishment and the feeling that they belong in the upper echelon and that they don't have to take a back seat to anyone," Cook said. "It's a process. But we've got to get them to think that heck or high water, we're going to find a way (to win). That's what good teams do, they find a way."