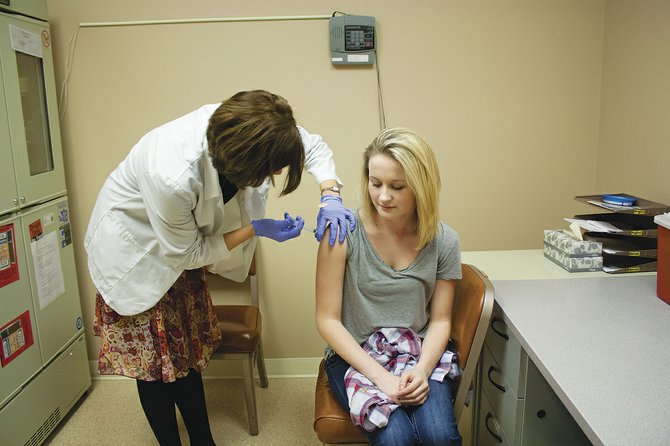 POLK COUNTY — Flu season is quickly approaching and the Polk County Public Health Department is again sponsoring seasonal flu immunization clinics beginning next week.
The Centers for Disease Control and Prevention is encouraging the medical community to begin immunizing as soon as the flu vaccine is available. The vaccine can be effective for up to one year, so you can get your shot early and still be covered during the winter months when the flu is more prevalent.
The vaccine is recommended for those 6 months of age and older.
This year Polk County Public Health is offering the quadrivalent flu vaccine that protects against four strains of flu instead of the three strains offered in previous years. This year's vaccine will be more effective in covering the strains that are most prevalent during flu season, noted Cindy Rettler, immunization coordinator for Polk County Public Health. Because it is new, it has been more difficult to come by, she added. Check with your doctor or pharmacy to see which vaccine they are offering, as the trivalent (three strain) vaccine is still available but does not cover the additional fourth strain of the flu.
Flu vaccine cost through Polk County Public Health is $26. A pneumonia vaccine is also available for $88. If you have questions about whether a pneumonia vaccine is needed, you can consult one of the nurses at the flu shot clinics.
Payment may be made by cash or check. Polk County Public Health is able to bill the Oregon Health Plan and Regence Blue Cross Blue Shield of Oregon, non-Medicare. Vaccine is also available for those without insurance. No one will be turned away for inability to pay.
For more information: 503-623-8176.
Get a Shot
POLK COUNTY SEASONAL FLU SHOT CLINIC SCHEDULE
• Monday, Oct. 20 — 1 to 3 p.m., Monmouth Senior Center, 180 S. Warren St., Monmouth.
• Thursday, Oct. 23 — 10:30 a.m. to noon, Polk County Courthouse, first floor conference room, 850 Main St., Dallas.
• Monday, Oct. 27 — 10:30 a.m. to noon, Academy Building gym, 182 SW Academy St., Dallas.
• Wednesday, Nov. 5 — 9 to 11 a.m., Polk County Mental Health — West Salem office, 1520 Plaza St. NW, Suite 150 Conference Room B, West Salem.
• Walk-ins are welcome Monday through Friday from 8 to 11 a.m. and 1 to 4 p.m. at the Polk County Public Health Department, 182 SW Academy St., Suite 302, Dallas, while vaccine supplies last.