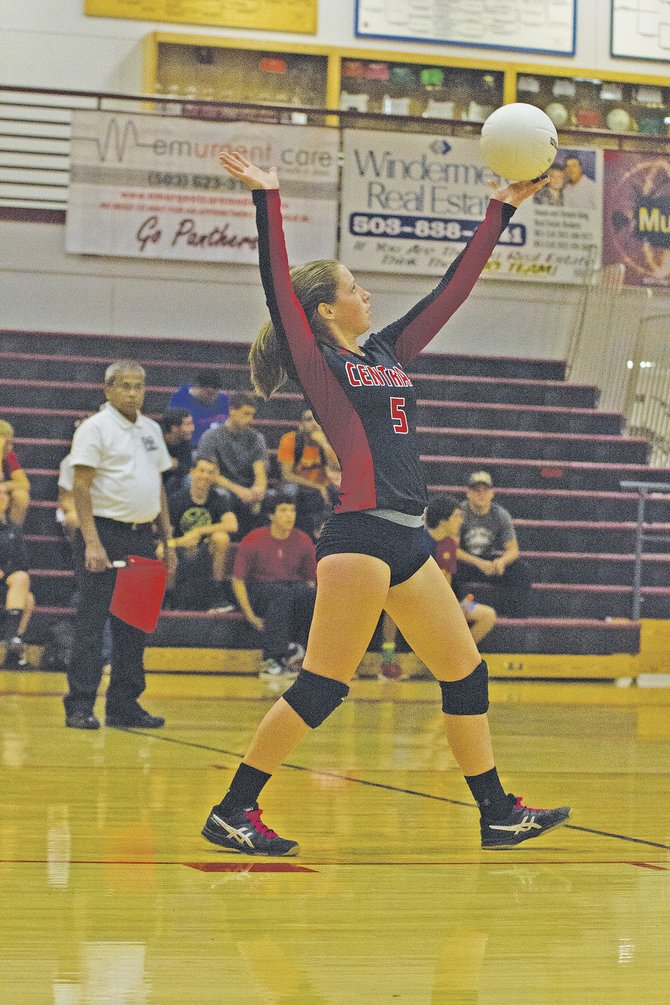 INDEPENDENCE — Central lost to Crescent Valley 25-23, 25-22, 25-23 on Oct. 8. For the Panthers, it was a night of missed opportunity.
"We discussed that as coaches, we believe they have everything they need to compete at this level," Central coach Michelle Lewis said. "At this point, it's the small things that they have absolute control over that matter."
Paris Orin and Alex Dowdell led Central (2-8 Mid-Willamette Conference) with nine kills each, while Kylie Nash had 30 assists. But the Panthers must earn victories if they want to qualify for the Class 5A play-in round.
"We're talking about trying to qualify for the postseason," Lewis said. "In order to do that, we have got to win at least two more games in league."
Central faced Lebanon Tuesday after press time. The Panthers play at Silverton Thursday before hosting Corvallis on Tuesday at 6 p.m.
The top two teams in the league earn an automatic berth to the state playoffs. The third- through sixth-place teams advance to the play-in round.
Central entered the week in seventh place behind South Albany and Silverton, which both have 3-7 league records.
DALLAS EARNS KEY WIN: Dallas earned a key league victory, defeating South Albany 23-25, 25-16, 25-23, 25-15 on Oct. 8. Chanel Bailey had 10 kills to lead the Dragons, while Danielle Remington had 22 digs and eight aces. "The team struggled early in game one, but was able to bounce back," Dallas coach Shana Lavier said. "They were able to execute when they needed to get the job done." The Dragons (7-3 MWC) faced Corvallis Tuesday after press time. Dallas hosts Crescent Valley on Thursday in a match that will have a big impact on the league standings. Entering Tuesday, Dallas and Corvallis had the same league record, one match behind second-place Crescent Valley (8-2 MWC).
FALLS CITY LOSES FIVE-SET MATCH: Falls City lost a five-set thriller to Jewell 17-25, 18-25, 25-23, 27-25, 16-14 on Oct. 7. The Mountaineers (5-5 overall, 4-5 Casco League) saw Allison Kidd have 21 service points and five digs, while Tiaunnah Davis added 14 service points and nine digs. "Tiaunannah and Allison were our big players," Falls City coach Roxi Barnhart said. Falls City hosted Willamette Valley Christian Tuesday after press time. The Mountaineers close out the regular season at Crosshill Christian on Thursday and Livingstone Adventist Academy on Tuesday. Falls City entered the week fifth. Jewell (6-4 Casco League) and Crosshill Christian (4-4 Casco League) entered the week in third and fourth place, respectively.
PERRYDALE DOWNS W. MENNONITE: Perrydale defeated Western Mennonite 21-25, 25-23, 25-14, 25-19 on Oct. 8. Sarah Nelson had 16 kills to lead the Pirates (6-4 Tri-River Conference). Madison Perkins added eight aces. "The team is playing great and things are coming together well," Perrydale coach Denise Dickey said. The Pirates played East Linn Christian Academy Tuesday after press time. Perrydale hosts Regis Thursday at 6 p.m. before playing at Central Linn on Monday.