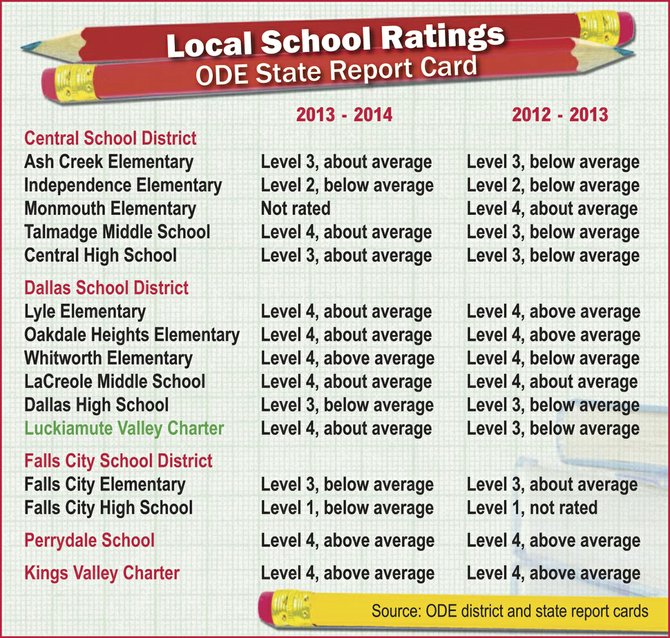 POLK COUNTY — Overall, schools in Polk County were rated "about average" when compared with other schools like them throughout the state.
The results were part of the information in the state school and district report cards, released Thursday by the Oregon Department of Education.
Seven of the 15 schools in Polk County received a score of "about average," while four were deemed "below average," and three were rated "above average."
Overwhelmingly, school administrators said graduation rates affected the ratings of high schools.
Falls City High School rated at a Level 1, "below average," when compared to other schools of its size.
A big factor is graduation rates, said Jack Thompson, Falls City superintendent.
"Our grad rate is really low, which we're actually kind of proud of," Thompson said. "We've got kids … (who have) done everything they needed to do to be able to graduate, but wanted to go on to college."
Three of Falls City's seven graduates from high school will show up as dropouts because they decided to stay for the fifth-year program, he explained.
Thompson said the ODE is working on counting those students as "graduated" rather than as dropouts or noncompleters, which will make a huge impact on the ratings of Falls City High.
It's a similar situation for Dallas High, which rated Level 3 and "below average."
"I will say that, in general, the high school's doing fine," said Cory Bradshaw, Dallas assistant superintendent. "Next year, (ODE) will actually count our extended campus students as graduated, because they have filled the requirements for a diploma."
More schools in Oregon are going to the fifth-year model, said Dallas High Principal Steve Spencer, which is in line with Oregon's 40-40-20 Goal.
Central High just implemented a similar fifth-year program starting this school year. Central High rated Level 3, "about average." While the fifth-year program did not affect this report card's graduation rates, Central Superintendent Buzz Brazeau said bookkeeping has.
With reduced staffing, some students who have left the district remained on the books longer than needed, and ended up showing as dropouts or noncompleters.
And with the proposed changes to the way ODE calculates a graduate, schools throughout Oregon will be able to show a better picture of the state's graduation rates.
"I think we're getting closer to a real grad rate as compared with other states in the union," Brazeau said. "Right now, our way is the most limited or restricted way in the nation."