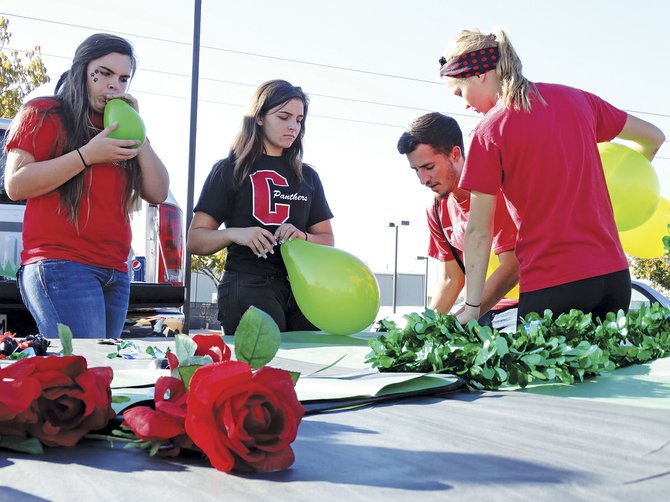 Dallas High senior 'National
Merit Commended Student'
DALLAS — Asheley Crabtree, a Dallas High School senior, was designated as a 2015 National Merit Scholarship Program (NMSP) Commended Student.
Crabtree is one of 34,000 students nationally to be given the honor, placing in the top 5 percent of the 1.5 million students who entered the 2015 competition by taking the 2013 Preliminary SAT/National Merit Scholarship Qualifying Test.
"The young men and women being named Commended Students have demonstrated outstanding potential for academic success," according to a NMSP statement. "Those students represent a valuable national resource; recognizing their accomplishments, as well as the key role their schools play in their academic development, is vital to the advancement of educational excellence in our nation."
Crabtree was presented with a NMSP letter of commendation at Dallas High School on Oct. 8.
Perrydale ready to celebrate
2014 homecoming next week
PERRYDALE — Perrydale's Pirates are celebrating the school's annual homecoming week, which begins Monday and runs through the Oct. 24 football matchup against Naselle (Wash.).
Want to show some Pirate spirit? Come check out Tuesday's girls powderpuff football game, which begins at 6:30 p.m. on the football field. Then the annual "grid iron game" — the boys playing volleyball — will follow. Both events are free.
The main event is Oct. 24 — the annual homecoming football game against the Naselle Comets out of Washington. Kickoff is set for 7 p.m.
All events are at Perrydale School, 7445 Perrydale Road, Amity.
For more information: 503-623-2040.
Fundraiser slated to benefit
seniors at Perrydale High School
PERRYDALE — Ugo's Pizza in Dallas is holding a fundraiser Tuesday to benefit Perrydale High School's Class of 2015.
Order pizza for dine-in or take out (not delivery) on Tuesday from 4 to 9 p.m. and a portion of your check will go to help fund senior class activities this year.
For more information: Perrydale School, 503-623-2040.