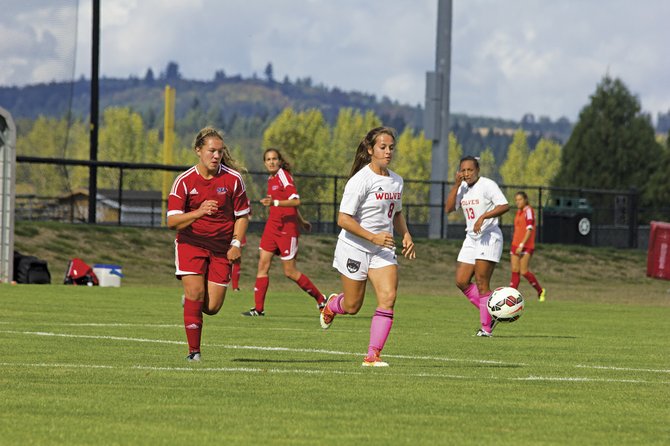 MONMOUTH — Western Oregon's womens soccer team defeated Simon Fraser 4-0 on Saturday.
Taylor Higa scored two goals and Allison Frost and Machaela Rapozo added goals for the Wolves (5-4-3 overall, 3-2-3 Great Northwest Athletic Conference).
The Wolves also tied Western Washington 1-1 on Thursday.

Western Oregon hosts Central Washington Thursday at 3 p.m. and Seattle Pacific Saturday at 1 p.m. in the team's final home matches of the season.
Western Oregon is fifth out of eight teams in the conference standings. The top four teams advance to the conference tournament. Western Washington, Montana State Billings, Seattle Pacific and Central Washington are ahead of the Wolves.
FOOTBALL WINS CONFERENCE OPENER: Western Oregon jumped out to a 16-0 lead in the first half, then held off Dixie State for a 19-14 football victory on Saturday. Quarterback Trey Shimabukuro threw for 303 yards and two touchdowns for the Wolves (3-3 overall, 1-0 GNAC). Wide receiver Paul Revis had nine receptions for 121 yards. Revis finished with 206 all-purpose yards. Defensive back Breeon Moreno had a fumble recovery and intercepted a Red Storm pass in the fourth quarter to seal the win. WOU travels to Central Washington on Saturday. The Wolves defeated CWU 36-34 in Monmouth earlier this season.
VOLLEYBALL REMAINS WINLESS IN GNAC: Western Oregon dropped a pair of GNAC volleyball matches, falling to Western Washington 25-14, 25-14, 25-18 on Thursday and Simon Fraser 19-25, 25-17, 25-18, 25-22 on Saturday. Hannah Deede had 13 kills and Jordin Ramos had 21 assists to lead the Wolves Saturday against the Clan. WOU (2-15 overall, 0-9 GNAC) has now lost eight matches in a row. Western Oregon hits the road to face Central Washington on Thursday and Northwest Nazarene on Saturday.
CROSS-COUNTRY SHOWS WELL: Western Oregon's men's cross-country team placed seventh at the Western Washington Cross-Country Classic on Saturday. David Ribich finished 19th in the 10,000-kilometer race with a time of 32 minutes, 8 seconds, to lead the Wolves. The women's cross-country team finished 10th at Western Washington. Stephanie Stuckey led the Wolves in the 6,000-kilometer race, taking 45th overall in 23:23. Western Oregon will compete at the Beaver Classic in Corvallis on Oct. 24.