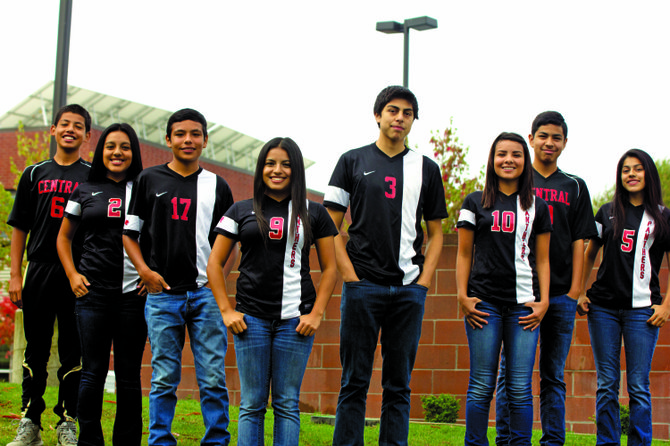 INDEPENDENCE — Central High girls soccer coach Joe Orozco is dreading the end of the season — but not because it signals the end of fall soccer for the Panthers.
Orozco has spent more than a decade watching and coaching members of his family.
"It's bittersweet to see them growing up too fast," Orozco said. "Soon, they'll be moving out from the soccer field and they won't play anymore, at least not for me or the school."
For the Orozco family, soccer is more than a sport. Eight members of the Orozco family play for Central's boys or girls soccer teams: Alexis Orozco, Alyssa Orozco, Delia Orozco, Victoria Padilla Orozco, Aaron Padilla Orozco, Pedro Orozco, Hugo Orozco and Eric Orozco.
Many of the brothers, sisters and cousins didn't just grow up playing soccer. They were raised on it.
"It's like a second home for me," senior Alexis Orozco said. "It's a comfort. It's what I've always done."

For the three seniors of the Orozco family — Alexis, Victoria and Pedro — soccer has been something they've shared through the years, from the days they competed on different youth teams, to supporting each other in high school.
And for each, soccer became something more than just a game to play.
"It's been fun getting to share this experience with your family members," Pedro said. "There's not much competition between us or anything like that. We're all having fun. Soccer was like an escape, and a place where we could relieve stress."
That shared experience has formed a bond between family members that extends beyond the fall season.
Connections
When Victoria arrived at Central High as a freshman, she was sure she would take a different path than her cousins. Despite playing soccer from a young age, Victoria elected to play volleyball.
It wasn't long until she realized something was missing.
"My sophomore year, I decided to come back (to soccer)," Victoria said. "All my cousins were doing it and I liked the sport. I liked volleyball, too, but it was family, the people I would get to play with, which makes soccer so much more fun for me."
It's clear that with the Orozcos, they aren't just teammates and family. They're best friends. And soccer gives each something they all can relate to, talk about, and makes sure this close-knit family stays that way.


"It's brought us together," Pedro said. "We have always been close, but soccer has given us that shared experience. It's given us something we can all talk about and relate to."
It's not uncommon to see the Orozcos hanging out with each other after school, inquiring about how a match went, or dribbling and passing a ball to each other.
And as several prepare for life after high school, soccer becomes a little less about the number of goals scored or allowed and more about treasuring each moment with each other.
"We always enjoy it," Alexis said. "We support each other. Some people, they're so competitive and have to be better than everyone else. With us, we just enjoy it."
Just because they're supportive doesn't mean they're afraid to give advice … whether it's wanted or not.
"The worst part is if you mess up, you feel like they're going to yell at you because they're your cousins," Victoria said.
For Joe Orozco, who helped coach many of the Orozcos since they began playing, this journey of seeing them grow into young adults far exceeds anything the kids achieved on the field.
"They always got along on and off the field," Joe said. "It's always been fun to see them get older, help each other get better and grow."
Next fall will be uncharted territory for the Orozcos. Graduating seniors are planning on attending college. And for Joe, some of the young children he coached in grade school are about to embark on a new journey.
But as the fall soccer season winds down, for the Orozcos, the chance to grow up playing soccer together, is an experience they wouldn't trade for the world.
"I just love playing with family," Victoria said. "I love that Joe, my uncle, is my coach. That's why I like doing it so much. Family makes this all special."