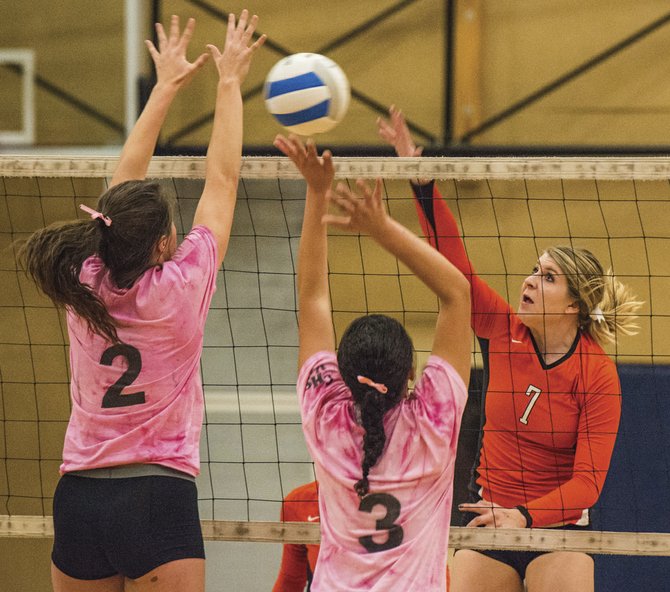 CORVALLIS — Facing two of the Mid-Willamette Conference's top teams, Dallas lost a pair of league volleyball matches last week.
The Dragons fell to Corvallis 25-12, 25-17, 25-11 on Oct. 14 before losing to Crescent Valley 25-16, 25-13, 25-11 on Thursday.
With the setbacks, Dallas dropped to 7-5 in MWC play, two matches behind Corvallis at 9-3.
Amanda Dankenbring had a combined 21 digs during the two matches.
"I want the girls to still be positive," Dallas coach Shana Lavier said. "This is the toughest part of the season. We faced some good teams who capitalized on our mistakes."
The Dragons, who played league-leading Lebanon Tuesday after press time, close out their regular season schedule at Silverton on Thursday as the Dragons prepare for the play-in round tentatively scheduled Tuesday evening.
"We don't have a big target on us right now," Lavier said. "We can go under the radar a little bit. I just want the girls to know that teams are beatable — and competing with teams like Crescent Valley and Corvallis, I think it's more of a mental thing."

CENTRAL EXTENDS LOSING STREAK: Central was unable to snap its four-match losing streak, falling to Lebanon 25-5, 25-10, 25-10 on Oct. 14 and Silverton 9-25, 25-19, 25-19, 21-25, 15-13 on Thursday. Statistics were not available. Central dropped to 2-10 in MWC play and is in seventh place in league. "We scored big in the first set, but let them back in," Panthers coach Michelle Lewis said of the first set against Silverton. "That was a tough loss. It most likely means we will not have a postseason." The Panthers also competed at the Philomath Tournament. Results were not reported. Central played Corvallis Tuesday after press time. The Panthers close out the regular season by hosting Woodburn on Thursday at 6 p.m.
FALLS CITY DROPS A PAIR: Falls City lost a pair of Casco League matches, falling to Willamette Valley Christian 25-16, 25-19, 25-14 on Oct. 14 and Crosshill Christian 27-25, 25-22 and 25-17 on Thursday. Individual statistics were not available. The Mountaineers (4-7 Casco League) closed out their regular season against Livingstone Adventist Tuesday after press time. "We are still struggling with consistent attendance (at practice) and I feel that's having a direct effect on our level of play when competition gets tough," Falls City coach Roxi Barnhart said. "I have been very impressed with the growth the girls have made this season. We were more competitive than I thought we would be on the onset of the season."
PERRYDALE SPLITS MATCHES: Perrydale defeated Regis 25-18, 25-23, 25-11 on Thursday before falling to Central Linn 15-25, 25-18, 25-19, 25-23 on Monday. Perrydale hosts St. Paul Wednesday (today) at 6 p.m. to close out its regular season.