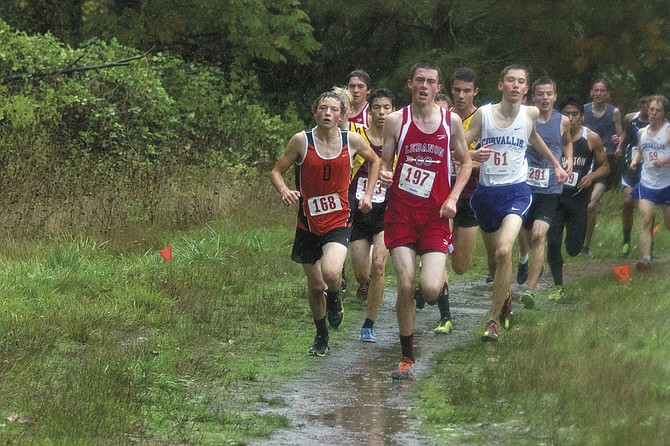 CORVALLIS — As Dallas' boys and girls cross-country teams competed at the Mid-Willamette Conference Championships on Oct. 22, it was never about contending for a berth to the state cross-country meet.
Instead, the Dragons looked to compete well at Crystal Lake Sports Park in Corvallis.
And, by that standard, it was mission accomplished for the boys and girls cross-country teams.
The girls squad placed sixth out of eight teams, ahead of South Albany and Woodburn. Senior Hannah Johnson led the Dragons in 25th place with a time of 21 minutes, 44.46 seconds. Catherine Rocak and Leah Miller placed 32nd and 33rd with times of 22:21.32 and 22:21.86, respectively while Angie Sletten (35th, 22:38.18) and Elizabeth Sutton (38th, 22:44.8) rounded out Dallas' top five in the 5,000-meter race.
The boys finished seventh out of eight teams, ahead of Central. Junior Jesse Stuhr took 21st to lead the boys squad in 17:50.77, while senior Isaak Tichenor placed 23rd in 17:57.29.
T.J. Cross (34th, 18:16.92), Seth Fast (38th, 18:33.04) and Ryan Bibler (41st, 18:45.7) rounded out the Dragons' top five runners.
"The team performed beyond my expectations," Dallas coach Monique Lankheet said. "I thought the rain would dampen their performances, but not only were there no complaints, but there were no excuses."
While Dallas isn't sending any runners to the state cross-country meet on Saturday, Lankheet said she was pleased with her group of athletes. And with a core group of runners, including Stuhr, Sletten and more, she is excited to see how much the Dallas cross-country program continues to grow.
"It's been a great season," Lankheet said. "Half of our team are rookies and there was a lot of improvement from where they started to where they finished. We became a team over the weeks and I am proud of their positive attitudes, their great work ethic and just how well we all got along."