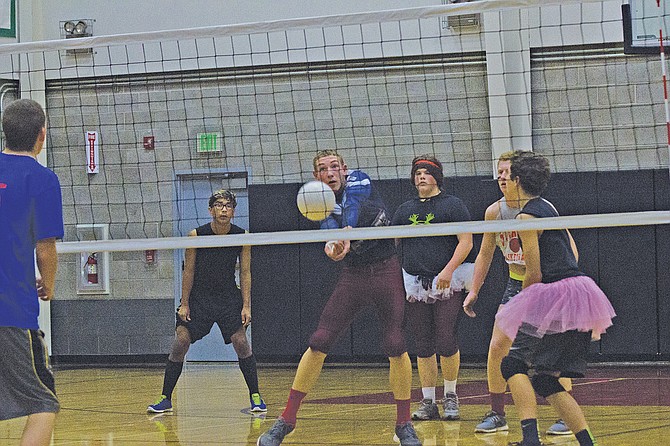 Hospital volunteers
to host book fair
West Valley Hospital Volunteer Services is hosting a book fair fundraiser Wednesday (today) from 9 a.m. to 3 p.m.
The sale, which takes place at West Valley Hospital, 525 SE Washington St., Dallas, will include books and gifts for all ages.
Proceeds benefit the WVH Volunteer Services Scholarship Fund for Polk County high school graduates.
For more information: 503-623-7323.
Raffle will benefit
local kidney patient
Courtyard Coffeehouse in Dallas is conducting a raffle with proceeds benefitting Dallas resident Candice Allred and her kidney transplant.
Through Friday, raffle tickets are available for $1 each or six for $5. A drawing will be held for two $50 gift cards.
For more information: Courtyard Coffeehouse, 503-623-9686; email to courtyardcoffee.dallas@gmail.com.
Monthly breakfast
fundraiser on tap
Monmouth Senior Center will host its monthly all-you-can-eat community breakfast fundraiser on Saturday from 8:30 to 10:30 a.m.
Cost is a suggested donation of $6 per person, $3 for children under 12. The meal includes pancakes, scrambled eggs, sausage, biscuits and gravy, and orange juice and coffee.
Proceeds benefit the Monmouth Senior Center building expansion fund. The center is located at 180 S. Warren St.
For more information: 503-838-5678.
Artist of the month
displays watercolors
Selected watercolors by artist Maggie Sams will be on exhibit at the Dallas Public Library, 950 Main St., through November.
Sams took her first watercolor class from Celia Stobie in Dallas 30 years ago. It has remained her favorite painting medium.

Sams is a member of the Watercolor Society of Oregon (WSO), Artists in Action, Keizer Art Association, Salem Art Association, and the Mid-Willamette Valley Critique Group. Four of her paintings are currently being shown at the Keizer Community Center as part of a 60-painting exhibit running through December put on by the Mid-Willamette Valley Critique Group.
She is donating 25 percent of the sales of the items exhibited at the Dallas Public Library to the Friends of the Library.
MVCA event set
to honor veterans
Mid-Valley Christian Academy is hosting its second annual Veterans Day Chapel for all veterans, past and active, on Nov. 5 at 8:10 a.m.
Veterans are welcome to attend chapel that day, followed by a complimentary breakfast.
The school hopes to honor the community's veterans by bringing them together for music, fellowship and breakfast. Spouses are welcome to attend with the veterans.
Mid-Valley Christian Academy is located 1483 16th St. N. in Monmouth.
For more information: 503-838-2818.
Scrabble session
slated at library
The Independence Public Library is the site of "Scrabble with Betty," a new program that holds its second session Nov. 5.
On the first Wednesday of every month at 1 p.m., Scrabble aficionados will come together for a friendly game of Scrabble. All are welcome to participate and prizes are awarded to the top players.
The library is located at 175 Monmouth St.
For more information: Betty Plude, 503-838-4039; Independence Public Library, 503-838-1811.
More like this story