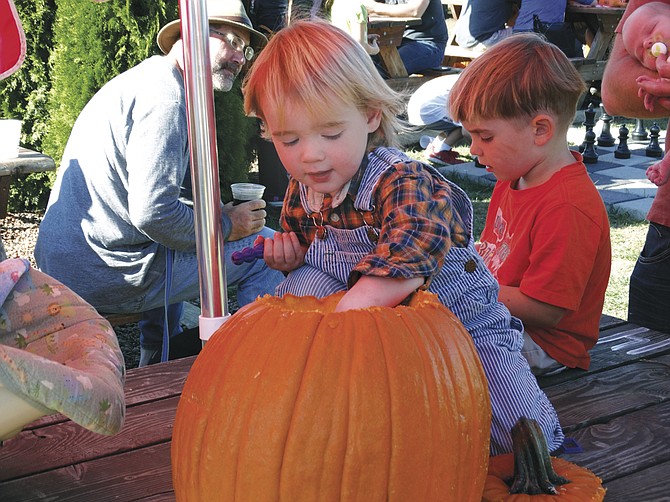 • MONMOUTH PUBLIC LIBRARY PUMPKIN CARVING/DECORATING CONTEST — Thursday, Oct. 30, 10 a.m. to 7:30 p.m., Monmouth Public Library, 168 S. Ecols St., Monmouth. Carved or decorated pumpkins accepted. Entries must be turned in Thursday between 10 a.m. and 7:30 p.m. Judging takes place all day Friday. Categories include: Pre-K (coloring sheet contest), elementary school, middle school, high school, adult, business and people's choice. Pumpkins should be picked up Saturday, Nov. 1. 503-751-0193.
• HAUNTED HALLOWEEN DIORAMA OF HORRORS — Thursday, Oct. 30, and Friday, Oct. 31, 6 to 8 p.m., Latitude One Restaurant, 904 Main St., Dallas. Free, but donations are welcome; donations support the Dallas High School Drama Club. The theatrical expertise of Moonfall Theater and Latitude One will be well displayed in the fright-filled Diorama of Horrors they create. 503-831-1588; www.latitudeonedallas.com.
• DALLAS COMMUNITY HALLOWEEN MUSIC JAM — Thursday, Oct. 30, 6:30 p.m., Dallas Senior Center, 955 SE Jefferson St., Dallas. Musicians and audience members of all ages welcome; costumes encouraged. Free admission; bring a snack to share at intermission. 503-623-5055.
• HALLO-WINE PARTY — Friday, Oct. 31, 11 a.m. to 6 p.m. Join Left Coast Cellars for a haunted cave, treats for kids, wine and food pairings, and a costume contest at the winery, 4225 N. Pacific Highway (99W), Rickreall. The family activities are free; wine and food available for purchase. 503-831-4916.
• DALLAS TRICK 'N' TREAT — Friday, Oct. 31, 3 to 6 p.m., Morrison Campus School, 1251 Main St., Dallas. A fun, safe, indoor way to celebrate Halloween. Treats, costume contests and prizes. For ages up to 12. Free admission; donations accepted. 503-623-2564. • INDEPENDENCE HALLOWEEN SPECTACULAR — Friday, Oct. 31, 3:30 to 6 p.m. Decorate a Halloween bag at the library, then go trick-or-treating in the downtown business district. Sponsored by Independence Downtown Association and Friends of the Independence Public Library. 503-838-1811.
• MONMOUTH HALLOWEEN SPOOKTACULAR — Friday, Oct. 31, 4 to 6 p.m. Pick up a trick-or-treat bag and map at the Monmouth Public Library, 168 S. Ecols St., then head out trick-or-treating at participating Monmouth businesses. The library will have treats, activities and you can vote for the "people's choice winner" in the pumpkin carving contest; games for children also at Petals & Vines, 410 Main St. E. Sponsored by Monmouth Public Library and Monmouth Business Association. 503-751-0193 or 503-838-1773.
• GRACE COMMUNITY CHURCH HARVEST TOWN — Friday, Oct. 31, 5 to 7:30 p.m., Grace Community Church, 598 E. Ellendale Ave., Dallas. Games, candy, hot dogs and chili. Free. 503-623-4961.
• DALLAS RETIREMENT VILLAGE TRICK OR TREAT — Friday, Oct. 31, 6 to 7:30 p.m., Dallas Retirement Village, 311 W. Ellendale Ave., 377 NW Jasper St. and 340 NW Brentwood St., Dallas. Preschool through grade-school children are welcome with their parents. The entry area of each building will have residents looking forward to giving treats out to children. Attendees are asked to stay in the living room front entry area. For more information: Karen Pederson, 503-623-5581.
• FAITH EVANGELICAL FREE CHURCH TRUNK OR TREAT — Friday, Oct. 31, 6 to 8 p.m., Faith Evangelical Free Church, 2290 E. Ellendale Ave., Dallas. Event includes "trunks" with games and candy, a caricature artist, face painting, a photo booth, hot dogs, chips, hot cider, hot chocolate, popcorn and cotton candy. All are welcome. Free. 503-623-8034 or 503-932-2294.
• VALLEY LIFE CENTER COMMUNITY CARNIVAL — Friday, Oct. 31, 6 to 8 p.m., Valley Life Center, 1795 SE Miller Ave., Dallas. For children in grades 5 and under. Features inflatables, pony rides, hay rides, games and candy. Free admission. 503-623-4116.
• FFA HAUNTED CAVES — Friday, Oct. 31, and Saturday, Nov. 1, 7 to 10 p.m., Central High School woodshop room, 1530 Monmouth St., Independence. Central FFA's version of a haunted house, including "scary" tale- themed rooms and a straw maze. Admission: $4; $3 for Central students with ID. 503-838-0480.
• SPIRIT CRAWL — Saturday, Nov. 1, 7 p.m., at Lion's Share Bakery, 286 S. Main St., Independence. Take a special edition of the Ghost Walk with Marilyn Morton, visiting spirits at places that serve spirits. The event is limited to 50 people, with tickets costing $10, available at the start of the walk or in advance by contacting Morton at 503-580-8525 or via email at Marilyn@minetfiber.com. Proceeds benefit Independence Downtown Association, which is sponsoring the event.