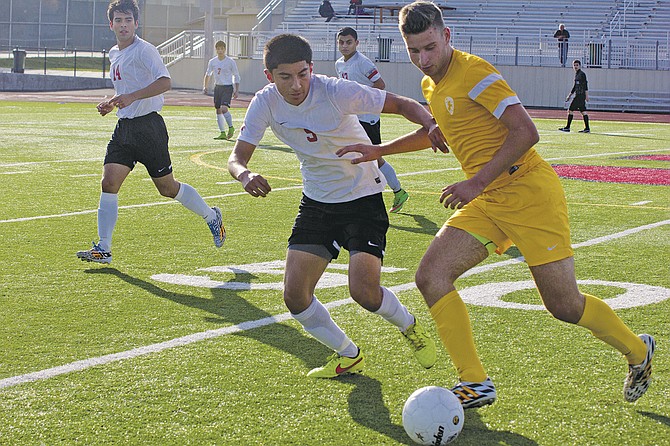 INDEPENDENCE — The Central boys soccer team entered its match against Lebanon on Oct. 21 with league title aspirations.
The Panthers left losing to Lebanon 2-1 before falling to Crescent Valley 2-1 on Thursday. The losses knocked Central (4-2 Mid-Willamette Conference) into the league's second seed entering its regular season finale against Woodburn Tuesday after press time.
"Last week's matches did not turn out as I hoped," Panthers coach Mike Lynch said. "Losing the league title hurt, but these young men learned a valuable lesson. They learned you can't coast through life and have things handed to you, you have to work for the things you receive."
As Central prepares for the Class 5A state playoffs, Lynch said the focus is now on making sure players don't take anything for granted. If Central clinches the second seed, it will receive an automatic berth into the state playoffs. If the team falls to third or lower, the Panthers will compete in the play-in round.

"We just don't coach soccer, but we are also teaching these young men how to handle themselves after they leave the program," Lynch said.
CENTRAL GIRLS LOSE THREE: Central's girls soccer team saw its losing streak extend to seven matches. Lebanon defeated the Panthers 5-0 on Oct. 21, followed by a 9-0 setback to Crescent Valley on Thursday and a 7-0 defeat to Corvallis on Monday. The Panthers haven't scored since playing Southridge on Sept. 25. "Corvallis had great ball handling and played a good game," Central coach Joe Orozco said. "Our team was playing well together and we were putting up a fight, but Corvallis was a good team. Our defense was playing well in the beginning of the first half." The Panthers (0-6 Mid-Willamette Conference) ended their regular season at Woodburn on Tuesday after press time.
PIONEERS DEFEAT TAFT: Western Mennonite/Perrydale ended its regular season with a 4-0 victory over Taft on Friday. No details were provided. The Pioneers (11-2-2 overall, 10-0-2 Special District 3) enter the league playoffs as the top seed. Western Mennonite/Perrydale will play second-seeded Blanchet Catholic at Salem Academy, Thursday at 7 p.m. Both teams will advance to the state playoffs. If the Pioneers win and are ranked in the top four in the OSAA power rankings, they will receive a first round bye. If not, the team will play on Tuesday.
DALLAS GIRLS DROP FOURTH STRAIGHT: Dallas' girls soccer team lost its fourth-straight match, falling to Corvallis 5-2 on Thursday. Olivia Dalke scored both goals for the Dragons. Dallas also lost to Silverton 3-1 on Oct. 21 in the team's home finale. The Dragons closed out the regular season against South Albany Tuesday after press time. Dallas entered the match at 5-7 overall and 2-4 Mid-Willamette Conference and in sixth place in the league standings. The top six teams from the league advance to the play-in round. The top two teams receive an automatic bid into the state playoffs. The third- and fourth-seeded teams will host a play-in match, while the fifth- and sixth-seeded squads will go on the road against the Midwestern Conference's third and fourth-seeded teams, respectively.
DALLAS BOYS LOSE TWO: Dallas' boys soccer team lost a pair of Mid-Willamette Conference matches last week. The Dragons fell to Silverton 2-1 on Oct. 21 and Corvallis 8-0 on Thursday. Dallas (0-12 overall, 0-6 MWC) hosted South Albany Tuesday after press time in the team's final match of the season.