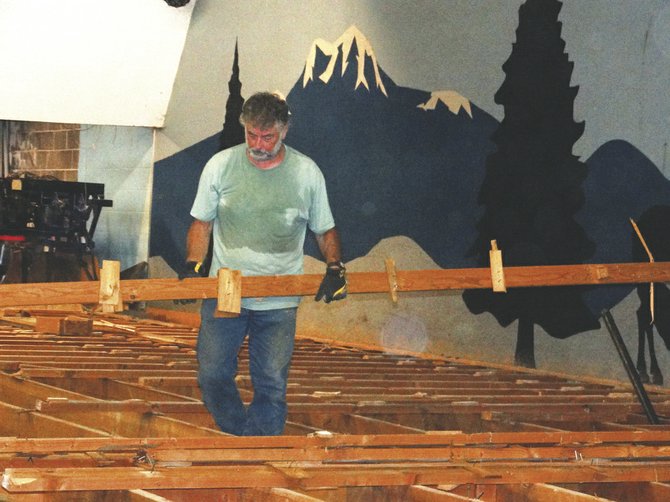 INDEPENDENCE — The thunderous roar of bowling balls hitting pins has been replaced by the sound of nails being ripped out of hardwood floors at Pioneer Lanes.
"It's a pretty exciting time," said Rick Hopkins, associate pastor at Calvary Church. "It's a lot of work. It's a lot of sweat and muscle, but it's oh so exciting."
Members of the church began removing the old bowling lanes and joists they lay on on Aug. 20. With a congregation of about 100, everyone has taken turns to help make progress.
Pioneer Lane's transfer of hands was a rather quick decision, and quite unexpected. The bowling alley posted on its Facebook page on Aug. 14, "We sold the business. … Thank you for all the good years."
The owner did not return phone calls from the Itemizer-Observer seeking comment.
It was Calvary's new pastor's goal for the church to have its own building.
It has leased space next to Roth's Fresh Market in Central Plaza for 13 years. Efforts to relocate were in vain.
"Monmouth and Independence are very difficult to find a building in," said Bob Fraley, church administrator. For their congregation, not just any building would work. It had to be large enough, with enough parking spaces.
Fraley said he and Pastor Dan Campbell were discussing the issue one day when Fraley looked out of the pastor's office and saw the bowling alley.
Although it wasn't for sale, Fraley went over and asked the owner if he'd like to sell the building.
"(The Pioneer Lanes owner) was just figuring out what a new roof was going to cost," Fraley recalls. "I said, 'Hey, want to sell this place?' He said, 'Yeah.'"
That was the first door God opened for the church and its congregation, Hopkins said, but it wouldn't be the last.
Everything else fell into place. The lot had the perfect number of required parking spaces for a congregation its size. The funding came through to the penny.
"Everything just worked out," Fraley said.
It is the end of a 54-year tradition of bowling at Pioneer Lanes, but Hopkins said the pioneer spirit will live on through the members of the church.
"It's not going to be the beautiful building that we're moving out of, but eventually it will be," Hopkins said. "There will be some excitement with the new building."
He hopes the first service in the new building will be Nov. 2. Sunday services are held at 8:30 and 10 a.m.