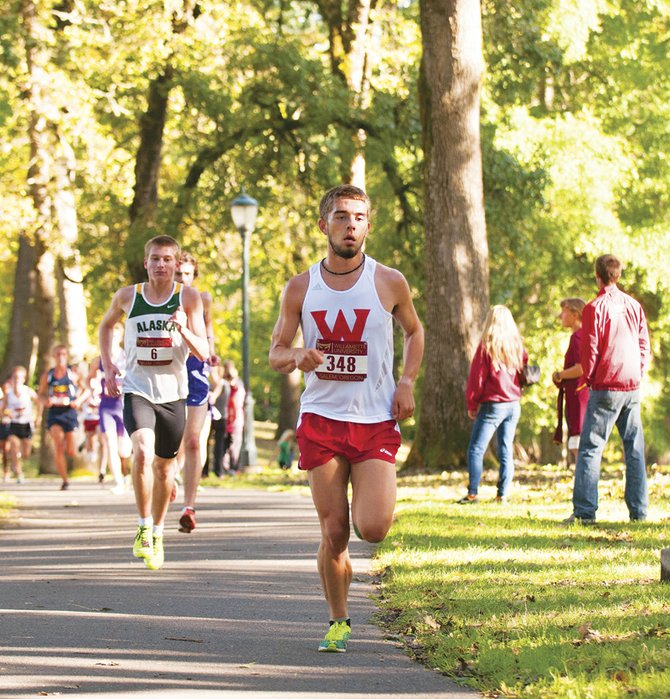 INDEPENDENCE — Western Oregon junior Zach Holloway is dreaming big. And he's ready to make those dreams a reality.
"I went and watched the NCAA track and field championships in Eugene," Holloway said. "… It's nice to think that maybe I can run as fast as some of those guys. It's great motivation. I want to qualify for the Division II national race this year."
Holloway will lead a men's cross-country squad that finished 12th in the West regional in 2013. Holloway placed 54th individually with a time of 33 minutes, 40 seconds.
The Wolves have their work cut out for them if they want to qualify out of the West Region.
Four of the five qualifying West Region teams finished in the top eight at last year's national cross-country championships.
The top six teams from the West Region will advance to the NCAA Division II Cross-Country Championships, along with the top individuals. Holloway plans on being one of them.
"I was a little disappointed last year," Holloway said. "I never quite ran to my fitness level. This summer I focused on getting some good, quality training. I got my foot speed up, I didn't have any interruptions, didn't get injured or anything like that. I was just making sure I came back ready to run fast."
Holloway's most difficult challenge wasn't having quality workouts during the offseason. It was knowing when to hold back and rest before overworking himself.
"Zach has always been great at working hard, but you need to manage hard work," WOU coach Mike Johnson said. "Sometimes hard work is just hard on you. He's learned to space his workouts, utilize his recovery time, and he's making great improvements."
But Holloway isn't about to let that fact keep him from being optimistic about his — and the teams' — outlook.
"It comes down to how hard you're willing to work," Holloway said. "What you put into it, you'll get out of it. We're in a tough region. But you have to shoot high to be able to achieve great things. We want to make the national meet. That's what we've been training all year for. And we're very strong and focused on achieving that."
Stuckey  
As a sophomore, Stephanie Stuckey finished 28th at the Division II west regional in 2013. As a junior, she may be ready to shatter that mark.
"I'm more confident and I'm a lot faster than I've ever been," Stuckey said. "I'm excited to see where it takes me."
Stuckey returns as one of the Wolves' top female finishers, behind senior Annie Wade. But despite finding success last season, she lacked the confidence necessary to truly succeed.

"It took a lot of time adjusting to college and getting the right mindset," Stuckey said. "I had to be confident about myself, grow up real fast and figure out who I am. That's important because in running, you can get lost in your race if you don't know who you are and have confidence in yourself."
That's no longer the case, and Stuckey is looking to get off to a strong start this fall. Johnson can see Stuckey's progression rubbing off on her teammates.
"I think that often, confidence is reflection of (having a good) workout," Johnson said. "She had a good summer and spring last year. She trained hard and she came in ready and knowing that she's ready to do the work that's ahead. She's more confident in herself and that provides greater confidence for her teammates."
Now, Stuckey is hoping her new-found confidence can help lead the Wolves to a competitive season.
"We just want to run better and more confidently," Stuckey said. "Everyone is excited and everyone is getting better. We know that every meet is different, but we're real excited to see what can happen."