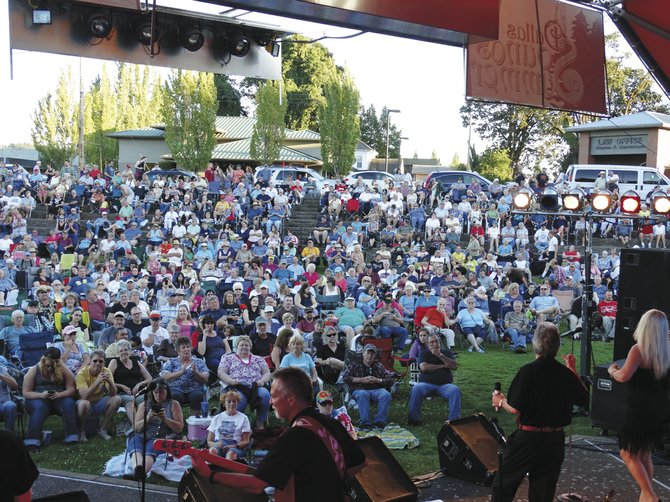 Support group sets
gathering Thursday
Creating Opportunities, a nonprofit family network based in Dallas, is hosting a parent support coffee meeting Thursday from 10 a.m. to noon at Lion's Share Bakery, 286 S. Main St., Independence.
The event is designed for parents of children with developmental disabilities to get together to share information and support, while also meeting the Creating Opportunities' Family Network staff.
To RSVP or for more information: 503-559-3674; http://ow.ly/ynh83; www.creatingops.org.
Open house slated
Friday at M-I YMCA
Monmouth-Independence Family YMCA is hosting a community open house Friday from 4 to 7 p.m. at its Independence office, 301 S. Main St.
A number of YMCA programs will be featured at the event, including group fitness, cross-country, coed adult kickball, volleyball, dance, micro soccer, competitive cheerleading, gymnastics, soccer and after-school child care.
Staff, coaches and teachers will be on hand to answer questions about all of the fall programs. Attendees will also have the opportunity to register for programs and learn about the YMCA's new membership program.
For more information: 503-838-4042; www.theYonline.org.
Monthly breakfast
fundraiser on tap
Monmouth Senior Center will host its monthly all-you-can-eat community breakfast fundraiser on Saturday from 8:30 to 10:30 a.m.
Cost is a suggested donation of $6 per person, $3 for children under 12. The meal includes pancakes, sausage, scrambled eggs, biscuits and gravy, and orange juice and coffee.
Proceeds benefit the Monmouth Senior Center building expansion fund. The center is located at 180 S. Warren St.
For more information: 503-838-5678.
St. Thomas to host
Sunday jazz event
St. Thomas Episcopal Church of Dallas is hosting the 2014 St. Thomas Jazz Festival Sunday at Kathken Vineyards, 5739 Orchard Heights Road NW, in West Salem.
The family friendly event, open to the public, runs from 1 to 6 p.m. It will include musical performances by Ellen Whyte and Jean-Pierre Garau and Jane Evans of the Grand Jazz Band, food, wine, a silent auction, 50-50 raffle and bake sale. Chairs and blankets are welcome, but no pets or outside food and drinks are allowed.
Tickets are $10 in advance and $15 the day of the event. Beneficiaries of the event include SABLE House, Polk County CASA, Salem Free Clinics and the St. Thomas Music Program.
For more information: 503-623-8522; email to stthomasdallasor@gmail.com.
Eyesight screenings
for children offered
As part of the "See to Read" program, both Independence and Monmouth public libraries will host eye screenings for preschoolers aged 3 to 7 on Sept. 10.
The project is a collaboration between the Oregon State Elks Association and Lions of Oregon.
Screenings will take place at the Independence Public Library from 11 a.m. to 1 p.m. on Sept. 10, and at the Monmouth Public Library from 2 to 4 p.m. on the same day.
For more information about the program: www.seetoread.net.
Meals for seniors
available in area
NorthWest Senior & Disability Services will be offering weekday meals for seniors 60 and older in Dallas and Monmouth throughout September.
Meals are served Monday through Friday at 11:30 a.m. in Dallas at LaCreole Manor, 204 SW Walnut Ave., and in Monmouth at the Monmouth Senior Center, 180 S. Warren St.
A donation of $2.75 is suggested for the meals, and advanced reservations are required. Delivered meals are available for home-bound seniors.
For more information: 503-623-6232 (Dallas); 503-838-5678 (Monmouth).
More like this story