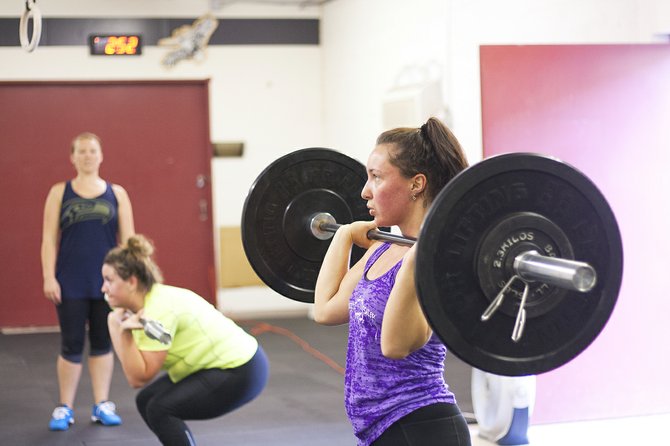 DALLAS — When Devin and MacLarin Jones visited family in Dallas recently, they were surprised there wasn't a CrossFit gym in town.
An increasingly popular fitness program — there are more than 10,000 affiliated gyms worldwide — CrossFit is that intense looking sport you see where people are lifting tractor tires and executing routines at mind-boggling speed.
Longtime CrossFit devotees, Devin and MacLarin decided to open a gym in Dallas, Harvest CrossFit, after they moved here this summer. It opened Aug. 11.
Don't be afraid — there are no tractor tires in the gym and CrossFit can be adapted to any fitness level. It uses varied, functional movements at high intensity, whatever that means to each individual. MacLarin and Devin always lead the classes to assure people are using proper form and moving at a challenging, but safe pace.
"Everything is scalable," Devin said, adding his goal is to help people achieve something they didn't think possible.
Devin is a good example of that kind of success story. Just a few years ago, he weighed 315 pounds and his CrossFit goal was to lose weight for his wedding day.
"That first year, I lost 80 pounds for the wedding," he said, adding he's lost another 25 pounds since. "It's part of our life now. This is the way we live our life now."
But CrossFit is no "magic pill," Devin said.
"When you come in here, we tell you it's hard," he said.
But the class format means you won't be suffering alone — and for those who are unsure, the first class is free.
"You come in and there's intensity and suffering and you know, just working hard together," Devin said, "followed by laughter and relationships."
Give it a Try
What: Harvest CrossFit.
Where: 172 SW Court St., Dallas.
Hours: Monday through Friday, 6:30 a.m. to 7:30 p.m. Classes at 6:30 a.m., 5:30 p.m. and 6:30 p.m.
Memberships: Month-to-month: $140 or $120 for those who log 20 or more workouts per month. Other membership options are available.
For more information: 509-899-2388; www.harvestcrossfit.com.