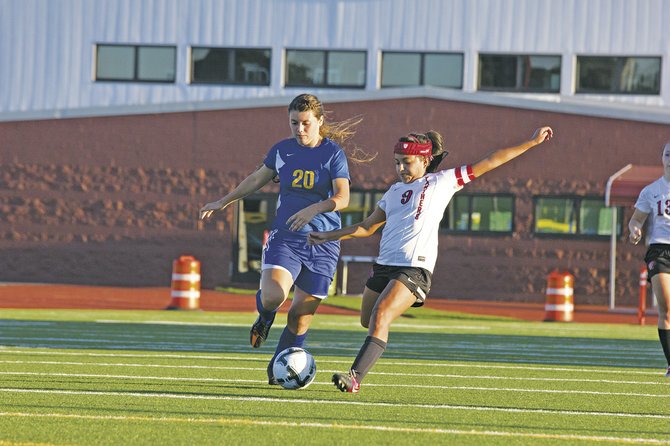 INDEPENDENCE — Central High senior Alexis Orozco grew up loving soccer.
Before she could walk, her parents had her on the sidelines for games that her father played in and coached.
For the past 15 years, she's played at numerous levels, fro-m community youth soccer leagues to club teams. But it was one of her first years playing that keeps her driven.

"When I was in first grade and wanted to play for (Central Youth Sports) I didn't make any of the teams," Orozco said. "That's the first time my dad started coaching me. But I think not making the team made me think I need to get better, I need to score and just keep improving."
As Orozco grew up playing soccer, the United States women's national team rose to prominence, winning the World Cup in 1999. And one player stood out to her more than any other.
"Mia (Hamm) is my idol of idols," Orozco said. "She was one of the youngest players ever to get on the U.S. national team. She was always aggressive, always wanted to win, and that's what she got done."
Hamm's style of play helped inspire Orozco. And Orozco spent years working to develop something that can define the difference between a good player and a great one.
"Soccer, it's all (about) instinct," Orozco said. "In football and basketball, you have plays. Soccer, you have to go with your gut and know where to go and where to be without any instruction."
Instinct is something that separates Orozco from other players and makes her one of Central's most dangerous weapons, both as a facilitator and a goal scorer. Orozco, now a forward and co-captain for the Panthers, is hoping her drive to improve will help lead Central, which lost 4-3 to Cottage Grove on Thursday, toward a successful season.
"Lexi is a very aggressive, very good player," Panthers coach and her father, Joe Orozco, said. "She's a finisher."
Central's start to its 2014 campaign hasn't gone quite according to plan, losing 9-0 in the team's season-opener Aug. 29 before falling to the Lions at home.
But the team learned valuable lessons that will serve them well the rest of the season, Alexis Orozco said.
"It really opened our eyes about how we need to play," she said. "Communication and passing and things like that need to be better, and we saw the fact that opponents aren't going to let up."
But Orozco is used to overcoming hurdles during her high school career. As a freshman, injuries caused her to miss most of the season.
Her ability to bounce back is something Joe Orozco is counting on to help the Panthers learn from their early-season mistakes.
"When she doesn't accomplish something, she'll try even harder to get it done," he said. "As a team, we learned we cannot play for 20 minutes and fall apart. We have to bring it the entire match."
Central hosts Madison of Portland at 7 p.m. Thursday before traveling to face McNary in Keizer on Tuesday. While the Panthers have shown improvement, Alexis isn't satisfied with moral victories — and she's ready to do all that she can to help Central turn improvement on the field into positive results.
"I'm looking for a win," Alexis said. "We're definitely looking for a win."