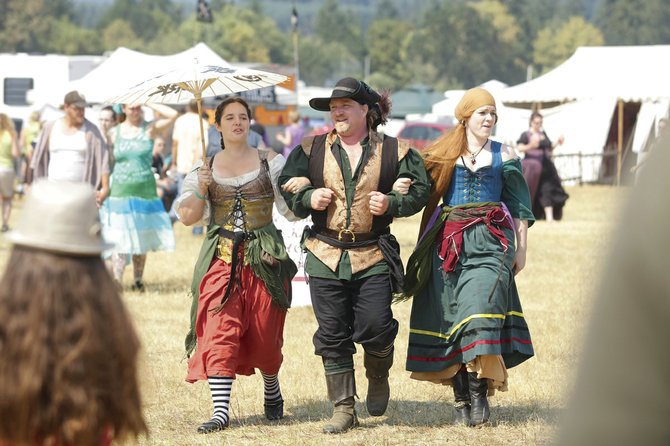 KINGS VALLEY — The annual transformation of a Kings Valley farm field into a medieval village is now taking place as the Shrewsbury Renaissance Faire prepares to open Saturday.
Shrewsbury, a fictional 16th-century European village built over the course of several days in a field off Grant Road and Highway 223 at the Polk-Benton county line, will be the setting for the faire, now in its 19th year.
The Shrewsbury Renaissance Faire comes complete with blacksmiths, old-fashioned taverns, merchants, live entertainers — on stage or roaming the Shrewsbury "streets" — and two jousting tournaments each day.
Expansion and improvements faithful "fairegoers" likely noticed in recent years, particularly the addition of Friar Tuck's Forest, will continue in this year's edition of Shrewsbury.
Adrian Hughes, co-proprietor of the festival, said Shrewsbury was able to pull north a member of the historical troupe of California's "Original Renaissance Pleasure Faire" to provide entertaining history lessons.
"We've been very fortunate to have one of their historians join us," Hughes said.
Fans of the ever-popular joust can rest a little more comfortably — literally — as Shrewsbury will be adding more bleacher seating around the jousting arena, in addition to the natural hillside that provided "stadium seating" for the faire's entertainment highlight.
Like a beer with your joust?
"We're putting together a new ale stand area so people can have an ale while they enjoy the joust," Hughes said.
Epona Equestrian Team will return for a second year as the faire's brave joust tournament competitors, as will acrobatics team EM Cirque.
Friar Tuck's Forest will continue to develop since debuting in 2012, providing a welcome break from the sometimes scorching September sun — and it is predicted to be hot, at least on Saturday. Vendors, a stage and Friar Tuck's Tavern can be found under the shade of the trees.
Hughes said the faire is adding features to give guests even more historical context to go along with the theatrics, handmade crafts, and medieval metal works and weaponry common at the faire. Visit the forest and follow the timeline of Queen Elizabeth, whose reign the faire commemorates.
"Instead of just being a craft fair, we like to sneak in some information, too," Hughes said.
Guests are encouraged to add to historical authenticity by attending the faire in period dress and do their best imitation of the language of the time. Don't worry, there will be plenty of "street entertainers" acting the part to help — and amuse — you along the way.
"It's shaping up to be a great faire," Hughes said.
If You Go ...
What: Shrewsbury Renaissance Faire.
When: Saturday and Sunday, 10 a.m. to 6 p.m. both days.
Where: Between Dallas and Philomath near Kings Valley at the intersection of Highway 223 and Grant Road at the Polk-Benton county line.
Admission: Adults, $11; seniors, children 6 to 12 years old and active military members, $5; children 5 years old and younger, free. A coupon for $1 off admission is available on the Shrewsbury website.
Parking: Free.
For more information: 541-929-4897; www.shrewfaire.com.