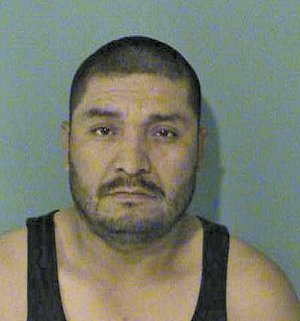 MONMOUTH — A Monmouth man pleaded not guilty on Thursday to 19 sex crimes charges, including seven counts of first-degree rape.
His victim is a minor, younger than 18, and considered mentally deficient by the court.
Eustaquio Gaspar-Lazaro, 38, is in Polk County Jail on $350,000 bail. He was arrested by Monmouth Police on Aug. 23.
The charges stem from several incidents involving a Monmouth resident. Most of the incidents occurred in Monmouth, said Jayme Kimberly, Polk County deputy district attorney.
Gaspar-Lazaro pleaded not guilty to first-degree rape (seven counts), third-degree rape (one count), first-degree sexual abuse (one cou-nt), first-degree unlawful sexual penetration (two cou-nts), second-degree sexual abuse (six cou-nts) and third-degree sexual abuse (two counts).
"He has just one known victim at this time," Kimberly said. "The victim reported abuse occurring in both (Monmouth and Independence), so both jurisdictions were involved."
As of now, only the crimes in Monmouth are being prosecuted, Kimberly said, with potential allegations in Independence.
"Because it's such a big investigation, it's still got reports and interviews coming in," she said. "So between now and pre-trial conference (scheduled Sept. 18), we'll turn everything over to the defense and engage in any plea negotiations and go from there."
Should Gaspar-Lazaro be found guilty of any of the first-degree rape or first-degree unlawful penetration charges, he would serve a minimum sentence under Measure 11.
After the pre-trial conference, the trial, should it happen, is scheduled for Oct. 14.