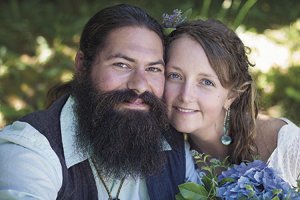 O'Driscoll-Key
Megan Minar O'Driscoll of Dallas and Chad Carter Key of Dallas were married on July 19 on the beach at Whale Cove near Depoe Bay.
The bride is the daughter of Dave and Debra Driscoll of Dallas. The groom is the son of Gary Lynn Key of Dallas, Texas, and the late Wanda G. Pirtle Key.
Minister Adrian Thomas-Eikmann performed the ceremony.
Matron of honor was Emily Mathis Steadman. Flower girl was Nyurtan Geck.
Best man was Steven Day. Groomsman was Blaze Key.
Megan is a 2003 graduate of Dallas High School. She graduated in 2009 from Oregon State University in Corvallis with a bachelor's degree in natural resources.
Chad attended Locust Grove High School in Locust Grove, Okla.
The newlyweds honeymooned by visiting the groom's relatives in Oklahoma and Texas, then camping in southwestern Colorado and southern Utah.
More like this story