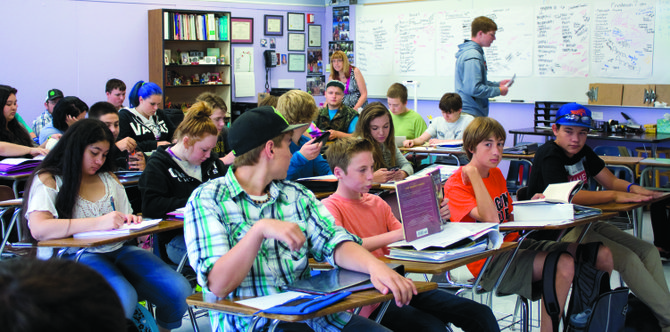 POLK COUNTY — Dallas High School staff had to go on a last-minute furniture hunt before school started to find enough desks for about 60 unexpected students in the first weeks of school.
"We are definitely feeling it," said DHS Principal Steve Spencer. "We were looking for any old desks that were still functional."
Most of the increase is in the freshman class. Spencer said the school was anticipating a class of about 220 to 225. On Friday, the actual number was closer to 260.
With smaller eighth-grade classes coming out of LaCreole Middle School in recent years, Spencer had been telling his staff to expect fewer students in their classes.
"With this increase, that class size reduction has evaporated," he said.
In fact, the school has had to shuffle its schedule to add another freshman language arts class. Still, classes are bursting at the seams with 1,004 full-time students — close to the school's capacity.
"It's hard to make contact with each of them and it's a lot of paperwork grading-wise," said math teacher John Jones, who has a geometry class with 35 students.
Language arts teacher Charlotte Fisher has 37 freshmen in her fourth period English 9 class, and those are just two examples of many that dot the schedule at DHS.
Spencer explained the unexpected increase may be due to the fact that Dallas has a high "mobility rate," referring to the number of families that move in and out of the district. He said school populations are fluid, but as of now, more students are enrolling than withdrawing.
While it's not as pronounced as it is at the high school, the Dallas School District as a whole is seeing an increase in the number of students attending classes.
The district's three elementary schools have 1,229 students, compared to 1,201 at the same time last year. LaCreole Middle School is holding relatively steady at 667 students, compared to 662 last year.
In all — including Dallas' five schools, DHS's Extended Campus program, online program Edgenuity, Morrison Alternative School, and Polk Adolescent Day Treatment Center — the district has 3,089 students enrolled, compared to 3,012 last year. Including Luckiamute Valley Charter School's 198 students, that number jumps to 3,287.
Central School District is seeing the same trend, with a 2-percent increase in enrollment districtwide.
Compared to last year's 3,065 enrolled students, this year the district is tallying 3,116 students, said Superintendent Buzz Brazeau.
The numbers reflect smaller kindergarten and second-grade classes, but larger first- and third-grade classes, Brazeau said.
There also is growth in classes at the high school. Incoming freshmen at Central High School total 250 so far, Brazeau said.
The growth is about on target, he said.
"It's a little bit larger at the high school than we anticipated, but we didn't factor in the extended campus and fifth-year program," Brazeau said.
Monmouth Elementary School has perhaps the largest jump in enrollment of the elementary schools with 548 students — 22 of them new, Brazeau said.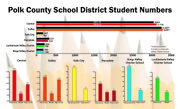 Efforts are being made throughout the district to even out the databases and put students where they need to be, he added.
One of the things they've done at the high school is to remove 23 students who were identified as not returning, Brazeau said.
He said cleaning up the system by eliminating non-returning students should also help more accurately reflect the high school's graduation and dropout rates.
Funding is a concern with fluctuating student populations.
One of the factors incorporated into calculating how much money schools receive is through the number of students enrolled. If the numbers are artificially high, the district could receive more money and have to pay the state back later if numbers drop.
Brazeau isn't worried.
"It's where we expect it to be, within the parameters of normal change," Brazeau said, adding that the increase should not inflate the budget.
As for accommodating the larger number of students in classes, Brazeau also noted this year's increase in staffing will help.
"Now we just have to put the finishing touches on it and we'll be in good shape," he said.
In Perrydale, enrollment is holding steady, but that was on purpose.
"The school board set a cap for the school district," said Perrydale Superintendent Eric Milburn. "We're right about at that cap for enrollment."
The cap is for roughly 23 students per grade, he added. Total enrollment is 316.
The board wants to return Perrydale High School under the 1A enrollment threshold of 92, Milburn said. It is currently classified as a 2A school by the Oregon School Activities Association.
"So we're trying to stay within that number to return to a 1A status for programs and everything that we offer," he said. "With the size of the facility we have, that seems to be the best fit for our school."
Falls City School District is seeing a slight dip in enrollment from last year, particularly at Falls City High School.
Forty-three students are attending the high school, compared to 52 at the same time last year.
Superintendent Jack Thompson said much of the decrease is due to a large senior class graduating last spring and a smaller freshman class coming in.
Falls City Elementary School has 118 students enrolled, three more than last year at this time.
Thompson said school enrollment growth is restricted because of the limited capacity of the city's aging sewer system, which means new housing – and the families that come with it – is not possible.
"I would like more, but we're kind of stuck between a rock and a hard place," Thompson said. "Until that changes – until the city gets a grant (to expand the sewer system) -- we are kind of stuck."