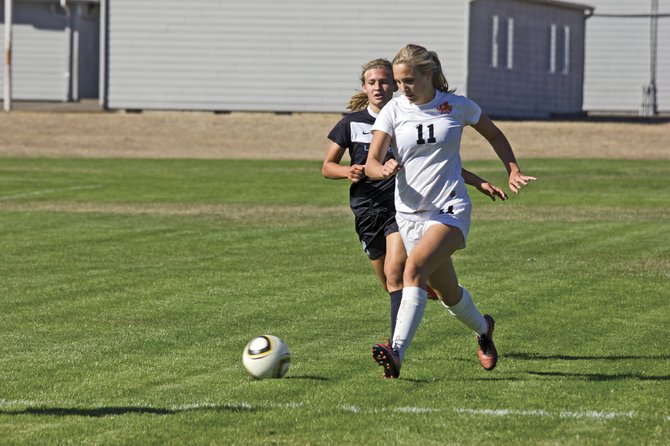 DALLAS — Dallas High's girls soccer team kicked off its 2014 season with a pair of losses, falling to Canby 6-1 on Sept. 9 and Lakeridge 2-0 on Thursday.
Playing without one of the team's better players, senior Isabella Nelson, who missed the matches with an ankle injury, the Dragons (0-2) aren't panicking about their start.
"They're coming together," Dallas coach Cherish Henrickson said. "We have a young team. They're figuring it out and getting the flow and chemistry back again."
With 12 underclassmen and three seniors on the roster, senior midfielder/defender Hannah Nelson serves as one of Dallas' key components. She's developed into a player who can both defend and spark the offense.
"I learned to be more confident and more aggressive," Nelson said. "As a freshman, I was timid and scared on the field."
That's helped Nelson and her fellow seniors become true leaders, Henrickson said.
"The seniors have a great impact to this team," she said. "They lead us. They're our example. They're the ones who set the bar for everyone else and the team moves with them."
The Dragons play at St. Helens on Thursday before facing Century on Tuesday.
"We want everyone to be healthy, and in the end, they'll become one unit on the field," Henrickson said. "We've had a tough preseason and I hope we step up to the challenges that await us."
CENTRAL GIRLS TOP MADISON: Alexis Orozco and Grecia Diaz each scored two goals, while Nereida Garcia, Alyssa Orozco and Cecilia Svaricek each tallied once as Central earned its first win of the season, defeating Madison 7-0 on Thursday. "It was an all-around team effort," Panthers coach Joe Orozco said. "Overall, the team played well together and we got a much-needed victory." Five of Central's seven goals featured assists. "We took advantage of all the opportunities we had," Coach Orozco said. "Our defense was strong and our midfielders distributed the ball very well and our shots were on target." The Panthers played at McNary Tuesday after press time and host North Salem on Thursday at 4 p.m.
CENTRAL BOYS POST TWO TIES: The Panthers found themselves in a pair of tight matches last week. Central (1-0-2) opened the week with a 0-0 tie against McNary on Sept. 9 as goalkeeper Erick Corral kept the Panthers even with six saves. Central followed up that performance with a 2-2 tie at Aloha on Thursday, as Jose Herrera and Marcos Gonzalez scored for the Panthers. "Against McNary, we outshot them 12 to six, we just couldn't find the net," Central coach Mike Lynch said. "I think it was due to first home game jitters. Against Aloha, it was a back-and-forth game, but everyone did their part for us to pull out a tie." The Panthers hosted Century Tuesday after press time and face Parkrose on Tuesday.
W. MENNONITE/PERRYDALE GIRLS: Western Mennonite/Perrydale bounced back from its first loss of the season with a 3-1 league win over Amity on Thursday. The Pioneers (3-1-1 overall) lost to Westside Christian 3-1 on Sept. 9 before beating Amity. Kieley Griffin scored two goals, while Cheyenne Lock scored the third in the victory. Perrydale goalie Emma Gibb had a standout game against Dayton on Monday, recording 23 saves as the Pioneers earned a 1-1 tie. "We had three matches last week and we have three this week, so this is the mentally toughest stretch we have all year," coach Mike Woodard said. "We have some girls banged up, but this stretch will toughen us up." The Pioneers host Catlin Gabel Wednesday (today) at 5 p.m. before facing Gervais on Thursday and Salem Academy on Monday.
DALLAS BOYS FALL IN OPENER: Polk County's final fall sports team to begin its 2014 season fell to Sprague 11-0 on Thursday. The Dragons hosted McNary Tuesday after press time and will play St. Helens on Thursday before traveling to play Benson on Tuesday. No details from the Sprague match were provided.