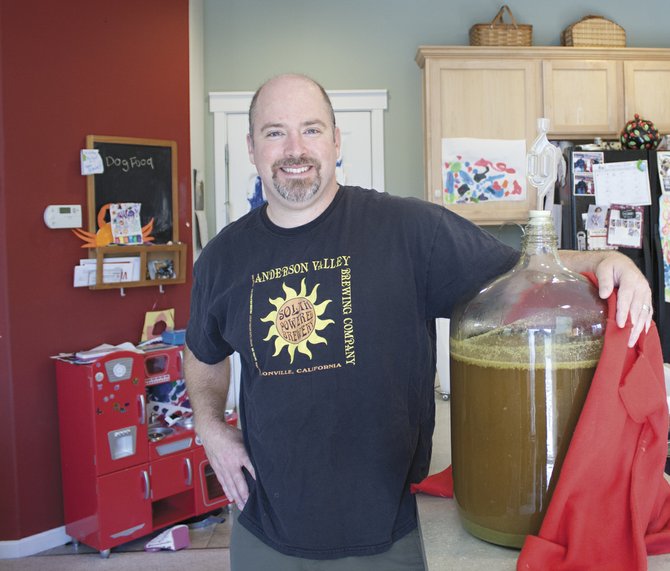 INDEPENDENCE — One of Independence resident and avid homebrewer Anthony Kirk's goals is to introduce people to really good beer.
He takes that mission so seriously that he began brewing his own more than 10 years ago and has scored a few victories along the way, converting people from drinking cheap domestics.
"You get the guys who only drink Coors Light and they are like 'Oh, that's pretty good beer,'" Kirk said.
He had that experience himself — he admits to drinking "the same terrible beer everyone else was" in college — with the emergence of microbreweries on the West Coast.
He remembers one in particular, an IPA (India Pale Ale) from California brewery Moylan's.
"It was $10 for a bottle — 10 bucks for this beer, but worth every penny," Kirk said. "I swear when I had that first sip, this moment of clarity come across my head. It had that quietness that the Buddha has when he reaches enlightenment.
"When angels sing in your ear when you take a sip, you know it's a good beer," he continued.
Years later, a friend invited him over to help make a batch of beer and Kirk found a new obsession — the quest to create his own perfect, angel-song inspiring IPA.
Kirk has homebrew contest awards to his credit — including one from the Oregon State Fair and from the first year of the Hop & Heritage Festival's homebrew contest — but he's still not convinced he's made the best IPA.
Kirk said the challenge is pursuing that "big IPA," characterized by strong hop flavor while retaining drinkability.
He's hoping the batch slowly fermenting in his kitchen will be the embodiment of those qualities. Now it's a soupy, bubbling mix that reveals its high hop content at first whiff. Kirk is aiming for a big beer — about 9 percent alcohol.
"It will be a sitter," he joked. "You have one and you have to sit down."
Making a brew like that is not for the uninitiated. Kirk has spent many an hour reading about brew making, seeking advice of other homebrewers — and sometimes testing the patience of his wife.
"My family calls her the 'beer widow'" Kirk said with a laugh.
His state fair winner, Locked Out Lager, was the product of a long night brewing — and consuming beer — with his friends. At about 10 o'clock that night, he and his friends decided to make a late dinner at his neighbor's house.
"I go to tell my wife, and she had locked the bedroom door because we were so obnoxious," he said laughing. "But we did make a damn good beer that night."
However, you don't have to be a beer geek to give homebrewing a try, Kirk said. Oregon's beer culture and the rising popularity of do-it-yourself brewing has made the hobby more accessible.
"You can be as geeky as you want, or you kind of just be footloose and fancy free and kind of roll with it," he said.
He uses elements of both. With years of experience brewing, he's learned how to perfect recipes or make his own, but he started with a 15-gallon pot and a collection of makeshift equipment.
Now there are starter kits and ready-to-use recipes available at a growing number of homebrew shops in the region.
Beginners will find that other homebrewers are more than willing to share tips.
In fact, Kirk and a few other brewers in Polk County have started a club, the Merry Hopsters, in hopes of promoting homebrew culture locally.
Not matter your level of experience and technical skill, there's one piece of advice that applies to every brewer:
"It's always best to brew with a friend, though. Brewing alone is not nearly as fun," Kirk said.