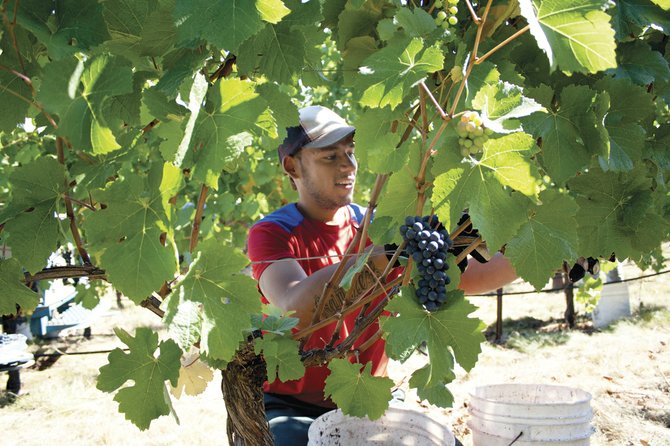 DALLAS — Fingers crossed.
The 2014 wine harvest began early in the Willamette Valley, prompted by a spectacular growing season this spring and summer.
In some places in the valley, vineyards have already pulled all of their fruit into the winery and most expect to be finished early.
"We're ahead of schedule by almost two weeks, and have been since bud break," said Bill Sweat, chairman of the Oregon Wine Board (OWB) and owner of Winderlea Vineyard and Winery in Dundee, in an OWB harvest update. "With the 30-day forecast showing slightly warmer and drier than normal conditions, 2014 has the promise of a phenomenal vintage and possibly a record harvest."
Local vineyards are hoping what appears to be true for the rest of the state will be the case in Polk County, too.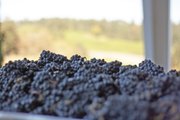 Yields are certainly higher — by about 15 to 20 percent — than last year at Left Coast Cellars in Dallas.
Left Coast's harvest began Sept. 8 and will extend another few weeks as the rainy weather begins to wash over the area.
Crews at Left Coast were rushing to get a large portion of the harvest in last week before Saturday and Sunday's heat and this week's rain began.
The rest of the vineyard is netted against hungry birds and left to hang until after the rains.
Fruit harvested so far has been beautiful, said Left Coast winemaker Joe Wright.
"The grapes are looking really good, the numbers are coming in really good and the flavor development has really come into place on everything we've picked so far," Wright said. "So far everything is absolutely ideal, really nice. I still think we will keep alcohol levels under 13 (percent), have good flavor development, and great color."
But because it is still early yet, winemakers and vineyard managers are cautious with their optimism.
"I think we have some of the most beautiful looking fruit," said Luke McCollom, Left Coast's vineyard manager. "We have the potential of one of the best harvests … but you don't really know (the results) until a year later."
McCollom said warm growing seasons like this year has been so far can produce "hot wines" or those with higher alcohol content, but he and Wright have been trying to manage that by being selective about the order vineyard blocks are harvested.
He, too, is pleased with what is coming into the winery.
"It smells great, has good color and good flavor," he said. "All signs point to an excellent vintage."
However, Left Coast and neighboring Johan Vineyards still have more than half of their harvest still in the vineyard and it's the time of year when picking has to dodge rain drops.
"This harvest is far from over," said Johan co-owner Dag Sundby. "The growing season has been a breeze. The challenge is yet to come."
The first hurdle will be an expected inch of rain falling Wednesday (today), with a few more wet days predicted afterward.
Compared to last year — September 2013 brought six inches of rain — and a number of other recent years when harvest ran well into October and November, Sundby said this year is beginning on a positive note.
"In 2010 and 2011, we didn't start picking until after Oct. 20," he said. "It always feels good to have a quarter of our harvest in already."
Sundby is seeing the same higher yields as many other vineyards in the state and has lofty visions for the wine those grapes will make.
"I think it is going to make crowd-pleasing wines," he said. "It will be the biggest output of Oregon wine from this vineyard."
Wright shares Sundby's excitement for the vintage.
"We work really hard for a month, two months out of the year to keep ourselves in work for the rest of the year," he said. "When you have something good to start with, it just makes the rest of the year so nice."
For more harvest photos, go to www.polkio.com.
Machine wine grape picking?
Left Coast Cellars gave the idea a trial run Monday as harvest continued at the Dallas area vineyard.
Vineyard Manager Luke McCollom said the vineyard will be testing the quality of a machine's performance this year alongside grapes that were hand-picked. The machine, made by French company Pellenc, was able to steam through the rows at a three-minute clip. In all, it picked 5 tons in an hour.
The picking and processing of grapes for fermenting happen all in one step with the machine, which only picks the grapes, not the whole clusters. Any leaves or other debris are automatically sorted out. Once the grapes and juice is dumped into fermenters, they can go straight to the winery.
McCollom said, especially with delicate pinot grapes, hand-picking is probably the best option for the fruit, but labor has been an issue.
"On the first day of harvest, the contract crew didn't show up and the same thing happened today (Monday)," he said. "It's harder and harder to get labor, so that's why I'm looking at the machine and the quality of it."
McCollom said looking toward the future, he's not certain he can depend on human labor to get the job done when it needs to be, so the machine may be a good investment.
However, it will be expensive, so the quality of the wine produced from the 5-ton test harvest will be key.
"We want to see, really, what the difference is," he said.