Sam Guida doesn't let a little leukemia slow him down.
He and Judy had quite a trip between the last two sessions of chemo.
They flew to London and visited friends and then went to Dover (England) to catch a cruise ship and traveled to northwest Spain, Portugal, Gibraltar and then several Spanish cities on the Mediterranean Sea, ending back in Barcelona where they spent several days exploring.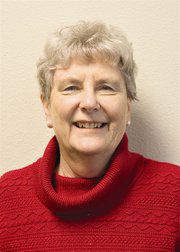 The history was amazing; they saw Roman ruins dating back to 200 B.C., 13th Century churches, villages in the mountains, wineries, beautiful Spanish horses and extremely modern cities.
Sam's cousin from Florida happened to be in Barcelona the same time they were so they had a chance to spend time with them, too.
—
Last Wednesday, the Pedee Women's Club surprised Dorothy McBeth with a birthday cake and ice cream for her 93rd birthday which was on Sept. 20.
She has been coming to the Women's Club for many, many years, where she has been the one faithful quilter when the rest of us are off doing something else.
Have I mentioned that the Women's Club has been meeting weekly since 1927?
—
Bob and Lynda Schnekenburger spent a week at Eagle Crest with daughter Dena and granddaughter Brittany.
They each learned how to tie-dye a shirt and spent time at the pool swimming enjoying the sun.
It was a great way to finish out the summer.
Derek Burbank finished his summer of fighting wildfires, then headed for Embler, where he is spending his first term of graduate school completing his student teaching.
He loved fighting fires and he's finding he also loves teaching vocational agriculture.
—
Dr. Mathai will be coming to speak at Pedee Church on the evening of Oct. 2 at 7 p.m.
Dr. Mathai is a gifted Bible teacher that has been heard regularly on the radio across the nation of India for more than 20 years.
He is the founder of a Bible college that has graduated 1,700 people for ministry over the last 36 years.
Before he and his wife Mariamma moved to Texas last year, Dr. Mathai served for more than eight years on staff at a large church in Albany, preaching and leading small groups, as well as continuing his ministry in India.