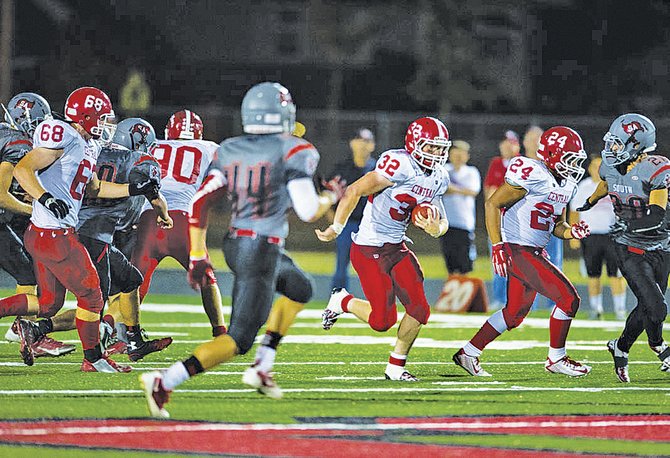 ALBANY — Senior running back Wes Riddell rushed for 300 yards and two touchdowns, helping the Panthers secure a 32-15 win over South Albany on Friday. Riddell also had 85 receiving yards and a touchdown as Central (2-1 overall) won its Mid-Willamette Conference opener.
Quarterback Doug Clem threw for 214 yards and a touchdown and added two rushing touchdowns. The Panthers gained 561 yards on offense as Central scored 20 points in the fourth quarter.
"Any time you put up 550 yards of offense, that's a number you feel good about," Central coach Shane Hedrick said.
The defense, led by Marlon Tuipulotu's nine tackles and five sacks, largely shut down South Albany's offense.
"I thought this was one of our better defensive games we've played in a long time," Hedrick said. "We've had some young kids coming up, and now they're maturing and that maturation really showed in week three of this season."
The Panthers host Dallas at 7 p.m. Friday in a key MWC battle between the rivals.
"It's a gigantic game," Hedrick said. "They're a very good program and they have one of the better coaches in the state of Oregon in Tracy Jackson. Dallas has a great group of athletes, and it'll be a real challenge for us."
FALLS CITY REMAINS UNBEATEN: Falls City defeated North Douglas 44-26 on Friday to move to 3-0 on the season. Zach Weems and Jesse Sickles had two rushing touchdowns each while Tristan Yeager scored a rushing touchdown and returned a kickoff for a score, bringing his career total to 14. But Mountaineers coach Laric Cook wasn't satisfied. "We can be a lot better," Cook said. "We worked on spacing and sometimes when we got tired, we'd lack mental focus and forget about where we're supposed to be in certain formations sometimes." Bo Beauchamp and Dan Boon helped lead the defense, but Cook said there's a lot of work to be done before the team's game against Mapleton Friday at 7 p.m. "They use a lot of different formations," Cook said. "That's where thinking instead of reacting is going to cause us problems. But we have a week to prepare and to continue to get better."
PERRYDALE DOMINATES TRIAD: Perrydale quarterback Troy Trembly threw for 166 yards and three touchdowns and ran in for another two as the Pirates cruised to a 64-22 win over Triad on Friday. David Silver had four catches for 112 yards and two touchdowns while Brant Barnes had 24 carries for 163 yards and a touchdown. On defense, Silver and Keenan Bailey led the team with 11 and 8 tackles respectively while Trembly had an interception and C.J. Marsters forced a fumble at the goal line. Despite the success, Pirates coach Chris Gubrud is looking for an even better effort going forward. "Offensively we were able to make big plays, but did not run the ball between the tackles as well as I would like," Gubrud said. "We need to cut down on penalties while sustaining blocks longer. Defensively, we did a great job of forcing turnovers, but were porous versus the run at times. We need to do a better job of following our assignments and getting off blocks. We had a couple of break downs in pass coverage that gave them two easy scores." The Pirates host Sherman at 7 p.m Friday.