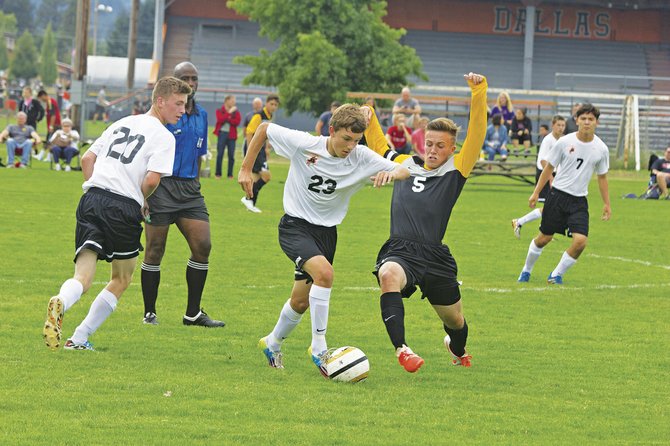 DALLAS — Dallas High's boys soccer squad may have lost to McNary 9-0 on Sept. 16 and to St. Helens 2-1 on Thursday. But for the Dragons (0-3 overall), Thursday's loss was an important sign of progress.
"They're getting better," coach Chris Smerke said. "We had more chances to score. Their confidence is growing. That's what I wanted to see. This is the growing part. Each one of them is going to get better."
Freshman Michael Davison scored the team's first goal of the season on a penalty kick in the second half, drawing the Dragons to within one goal.
"We stepped up our game," senior Tariq Miller said. "We moved some people around. We got into our minds that we are better than what we were."
Dallas played at Benson Tuesday after press time. The Dragons host Barlow 4 p.m. Thursday before finishing their nonleague season at Reynolds on Monday where Dallas hopes to fine tune and prepare for a successful league season.
"The past few seasons have been horrible for the Dragons," goalkeeper Cade Rosenbalm said. "But this is preseason and when the league season hits, other teams have better watch out because Dallas is coming back."
DALLAS GIRLS EARN ROAD WIN: Playing on the road, the Dallas High girls soccer team defeated St. Helens 2-1 on Thursday. The Dragons struck first, 11 seconds into the second half as Olivia Dalke drove with forwards Olivia Nelson and Sarah Ussery. Jenifer Webb supported from behind and scored the goal. After St. Helens tied the match at 1, a goal from Ussery in the 66th minute sealed Dallas' victory. The Dragons (1-2 overall) played at Century Tuesday after press time and travels to face Beaverton on Thursday before hosting Reynolds Monday at 4 p.m. "It was amazing," Dallas coach Cherish Henrickson said. "The team began to attack and the second goal occurred with a shot from Kayley Sayer that was deflected by the goalie and Sarah Ussery followed on the back post to slot it in."
CENTRAL GIRLS REBOUND FROM LOSS: The Central High girls soccer team responded after a 3-2 loss to McNary on Sept. 16 with a 4-2 victory over North Salem on Thursday. Grecia Diaz scored two first-half goals to put the Panthers up 2-1 headed into the half. Alexis Orozco scored both goals in the second half as Central improved to 2-3 overall. "The results are better when we play as a team," Panthers coach Joe Orozco said. "We started out a bit slow but as the game progressed we picked up the pace. … Overall, we played a pretty good game. Defensively, Alyssa Orozco played very well as defensive mid, her passes were accurate and she was recovering a lot of loose balls and countering the attack." Central plays at Southridge on Thursday in the team's final nonleague contest.
CENTRAL BOYS FALL TO CENTURY: The Panthers' boys soccer team dropped a nonleague contest to Century 4-0 on Sept. 16. The loss dropped Central's record to 1-1-2 on the season. The Panthers played at Parkrose Tuesday after press time and hosts Southridge on Thursday and Sherwood on Tuesday. Kickoff is scheduled for 4 p.m. for both matches. No game details were provided.